Biodegradable poop bags for dogs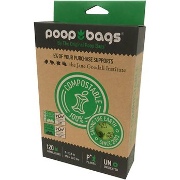 What are the best dog poop bags? When choosing the most suitable dog waste bags, there are several factors to take into consideration. In today's world not only are pet owners looking for a reliable dog bag that can do the job, but it is also important to look for a product that is safe for the environment. Biodegradable dog poop bags offer an environmentally friendly way to remove pet waste. Eco-friendly dog bags are made from materials that will degrade in nature over time. Compostable dog poop bags, for example, can be recycled as a fertilizer and pose no threat to nature. Many biodegradable dog poop bags are made from vegetable starch which makes these pet waste bags completely compostable.

Experienced dog owners know that most dogs poop at least once per day. As a result, using an eco-friendly dog poop bag is a great way to care for our environment. Fortunately, there are plenty of dog poop bags options available on today's market. When selecting a dog poop bag, it is important to pay attention to how thick or thin the waste bag material is. For large dog owners, for example, using a dog waste bag that is very thin can result in uncomfortable situations as the bag may easily get ripped during usage. Owners of large dogs may find that using a large size dog waste bag that is made of strong material is very convenient during walks. Some pet owners prefer scented dog waste bags that help to make the odor of the dog poop less noticeable by masking it with a pleasant fragrance. Dog waste bags come in different sizes that range from small to large. Depending on the size of your pet, choosing the most appropriate size of the dog poop bag is important. Small dog breeds such as the Maltese or Yorkshire Terriers produce a smaller amount of dog poop and a small dog poop bag would be the most suitable for these tiny breeds. If you are an owner of a large dog breed such as the German Shepherd or Labrador Retriever, then the most appropriate dog waste bag size is large or even extra large.

Some pet owners like dog waste bags that come with handles. Dog poop bags with handles make it easier to tie the poop bag up easily after use. Handle-tie poop bags are especially convenient for those with large or medium size dogs. There's more waste matter that needs to fit into the bag and having the handles makes the whole process quick and easy.

When taking your pet out for a potty break or for a stroll in the park, remember to have several dog poop bags available. The most convenient way to carry a dog poop bag would be by using a dog poop bag dispenser. Dog poop bag dispensers come in various types. Some are made of plastic, others are made of natural materials such as thick cloth. Dog poop dispensers usually come with a clip which can be used to easily fasten the dog poop bag dispenser to your pet's leash, to a bag or even to a stroller. Having a dog poop dispenser fastened to the dog's leash is probably the best way to not forget about bringing one for your next walk with your pet. Refilling the dog waste dispenser shouldn't be complicated. Most dog poop bags are available in rolls that can be placed inside the dog poop bag dispenser. How many dog waste bags can a typical dog poop dispenser hold? Most dog poop dispensers can hold thirty or even more poop bags. Let's take a look at some of the most popular biodegradable dog poop bags.

Here are some of the best eco-friendly options when it comes to dog poop bags:

Lucky Dog® ultimate poop bags, for example, are biodegradable and plant-based. Lucky Dog poop bags are made of strong material, which is yet another advantage. Lucky Dog poop bags come in rolls of 10, 20 or 30 roll packs. In case you are wondering about the size of these dog bags, here are the dimensions: 9 inches by 12 7/8 inches.

PET N PET Compostable Dog Poop Bags come in amount of 120 or 240 eco-friendly dog waste bags. This is a great option because these dog bags can be compostable even in a home composter. PET N PET Compostable Dog Poop Bags are unscented and made from cornstarch-based material. What separates these dog poop bags from the rest? They are easy to open and easy to separate. In addition, these dog waste bags are OK Compost Certified ASTM D6400. They break down into water and carbon dioxide, making these dog poop bags a safe choice for the environment.

beyondGREEN Plant-Based Multi-Purpose Waste Bags come in a 100 count per pack. With a size of 10"x7"x20", these multi-purpose waste bags feature handles and can be very convenient for owners of large dogs. Leak-proof and plant-based, these dog waste bags are an excellent choice for pet owners who care about the environment.

The Original Poop Bags Handle Tie Compostable Dog Poop Bags. These biodegradable dog poop bags come in a pack of 100 count. Strong and leak-proof dog bags with handles measure 7" by 13". The conveniently designed handles make it easy to tie up the bag after use. These dog poop bags are made from plants and can be composted.

Lucky Dog® premium poop bag dispenser offers a great way to conveniently carry dog poop bags when going out for a walk with your pet. This dog poop bag dispenser comes in three different colors that include black, cognac and camo. These stylish dog poop bag dispensers are made of durable materials that include rugged cotton canvas and genuine leather trim. This poop bag dispenser can be easily attached to a dog's leash or to many other accessories. Refilling Lucky Dog premium poop bag is easy and smart design allows dog bags to be dispensed in a smooth manner without getting ripped in the process.

Pet owners may also appreciate a PawPail's Waste Station. This weather-resistant dog waste station can be stored outdoors and it comes with a large roll of waste bags for convenience. The replaceable roll of 200 bags can last up to three months and makes it easy to maintain a clean environment.

While dog poop bags come in a variety of colors, designs and even scents, finding eco-friendly pet waste solutions is a great way to help protect our environment. Pet owners who live in the suburbian or rural areas can take advantage of compostable pet waste bags as these options are now available.