Klean Paws Indoor Dog Potty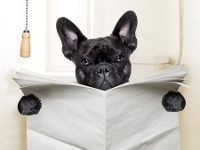 Klean paws indoor potty for dogs
Blyss Pets Klean Paws indoor dog potty
Dog owners who are looking for the best dog litterbox may have many quiestions as they start searching for the indoor dog potty that would meet the needs of their pet and at the same time can be easy to clean. Blyss Pets Klean Paws indoor dog potty is well made and can be a life saver for new puppy owners and for experienced dog owners alike. When compared to competitor products, Klean Paws indoor potty system stands true to its name and keeps the dog's paws clean after use - there's no litter left on the floor when the dog is done pottying. One of the reasons why so many dog owners choose to get a Klean Paws dog toilet system is because it is easy to keep clean.

Klean Paws is suitable for small dogs or for young puppies that weigh under 20 pounds. This dog litterbox is ideal for apartments or condos - it takes a small area and once the dog is trained to use the indoor potty all you need to do is clean it with a soapy water or with Enzyme Cleaner as needed to keep it clean and odor free. Klean Paws is ideal for using it with potty pads that make clean up even easier.





Many small dog owners wonder if they need to get an indoor litter box for their pet even if they take the dog outside to poop or to pee. Having an indoor dog toilet system such as the Klean Paws can be a very smart investment as your pet doesn't have to wait for hours just to use a toilet. Holding the urine in for long hours may cause various health issues in your pet sooner or later. If you work full time and can't take your dog outside frequently or when the weather outside is terrible, the Klean Paws indoor potty system can be a lifesaver because your pet doesn't have to wait and suffer to go to bathroom and you will not have to walk around your home looking for any pee or poop that your dog left for you on the floor or ever worse - on your favorite carpet or rug. No more dirty floors - get the Klean Paws indoor potty system and your life will be so much easier.

What is the best indoor dog potty system? Many dog owners who tried a variety of dog litterboxes report that Blyss Pets Klean Paws indoor dog potty is the most reliable and easy to maintain dog toilet system. For which dogs is Klean Paws works best? The Klean Paws indoor dog toilet is specifically designed for small dog breeds such as the Maltese, Yorkshire Terriers, Pugs, Chihuahuas, Miniature and Toy Poodles, Shih Tzu dogs, Pekingese, Boston Terriers and French Bulldogs, and all other small dogs that are up to twenty pounds when full grown. It is a good to set up the Klean Paws indoor dog potty before you bring home the new puppy so that once you have the puppy home, you can start potty training your new four legged family member instead of looking for the right dog toilet when the dog is already home and needs your full attention. What if your dog is already full grown - can he or she be trained to use a Klean Paws dog potty? Absolutely! Many dog owners suffer through having to clean up their floors every time they come home from a busy work day before they finally realize that there is a much easier solution - the Klean Paws. A mature dog can learn to use this litterbox with a few easy steps. How quickly can a dog learn to use a Klean Paws indoor dog potty? That depends on how involved you are in the process - any dog can learn to use the Klean Paws as long as the owner follows the detailed instructions that are provided with each dog potty system.

Small dog using Klean Paws indoor dog potty video
While you are working on accustoming your dog to using the Klean Paws, accidents still may happen until the dog is fully trained. Using an Enzyme Cleaner is the best way to handle any messes that are bound to happen in the process. Why is Enzyme Cleaner better than any ordinary soap? While ordinary soap cleaners leave a trace of scent of dog urine or feces behind, an Enzyme Cleaner completely removes any scent of dog's urine or poop from your floor or carpet. Completely removing any scent of dog's urine is necessary for successful potty training. Dogs always sniff the ground (or your floors) before pottying because they are looking to find that scent of urine which to them represents the correct area to use as a potty area. Unless you remove any urine smell from your floors, the dog will continue treating the floor as his toilet due to the scents left by the previous accidents. That's where an Enzyme Cleaner can come in handy. Always use an Enzyme Cleaner when you are cleaning up any accidents to prevent the dog from using that area as his potty area in the future. Enzyme cleaner is also ideal for cleaning your Klean Paws system as it helps to remove any stubborn scents and helps to keep the dog potty area pristine clean.





As you are starting to get your dog used to using the Klean Paws indoor potty system, having a spray that indicates where the dog should go potty is very helpful. Go Here Attractant Indoor and Outdoor Dog Training Spray, for example, is a housetraining aid that shows the dog exactly where to go potty. Spraying the Klean Paws area with the Go Here Attractant can shorten the time that it takes to potty train your dog as your pet can quickly identify the area that can be used as the toilet.

Don't forget to reward your dog for using the Klean Paws dog toilet especially as you are starting the potty training process. Have some healthy training treats available nearby that you can give to your dog immediately upon the dog completes the business where intended.