Orthopedic dog beds
What is orthopedic dog bed?
What should I know about indestructible dog beds?
Orthopedic dog beds in different sizes
Different types of ortho dog beds
Advantages of orthopedic dog beds
Reasons to buy an orthopedic dog bed
Orthopedic dog bed
Orthopedic dog beds are recommended for dogs of all breeds and sizes, guaranteeing a comfortable night's sleep. Naturally, these are best suited for senior dogs and those who are dealing with joint issues, such as arthritis or hip dysplasia. As quality sleep is important for the dog's physical and mental health, many pet owners are on the lookout for a good dog bed. Even though orthopedic dog beds might be more expensive, they are worth the investment, given the benefits they offer. In the following paragraphs, we will try to explain everything there is to know on the subject, so you do not feel overwhelmed.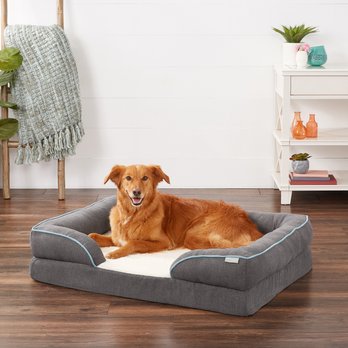 What should I know about orthopedic dog beds?
As any experienced veterinarian will tell you, the orthopedic bed was initially developed to offer a comfortable resting experience to dogs suffering from joint issues or sore muscles. Of course, these problems are more common in older dogs, which is the reason why orthopedic beds are mostly targeted towards senior dogs. However, most dog owners are now interested in orthopedic beds for their otherwise healthy four-legged friends, making their health one of their top priorities.

A dog with joint issues will probably deal with chronic pain, so you need to take his/her suffering into consideration. Choose a ground level bed, as this will be easy to get in and out of; be sure to pay attention to the temperature inside the home as well. If the floor is too cold, perhaps a raised bed with support might be a better alternative. Whatever you decide, make sure that the bed is not too high, otherwise the dog will attempt to jump into the bed, hurting himself/herself in the process. As you will see below, the size of the dog is one of the most important elements to consider, guiding your buying decision.

It is essential for the dog to fit comfortably inside the bed. If the respective bed is too small, it won't matter that it's orthopedic. The dog will struggle to stretch, and he/she might experience even more pain in the process. Make sure to choose a high-quality bed, as this will protect your dog's health for many years to come. Of course, the mattress is the key to a good bed, making a genuine difference. You can opt for a memory foam mattress, which will provide your four-legged friend with the necessary support. It is recommended to choose a cover that is removable and machine washable. Pay attention to the cleaning products you are using, especially if your dog has known allergies.


Choosing an orthopedic dog bed by size
It can be difficult to choose an orthopedic bed that fits your dog to perfection, especially since there are so many options out there. Perhaps the most important thing to remember is that there are no standard sizes for such dog beds. You can expect the measurements to vary in accordance with every manufacturer. The good news is that most of them provide measurement charts, so you can be certain you have chosen a suitable bed for your pet.

Did you know that manufacturers have created beds for extra small dogs, such as Yorkies, Chihuahuas, Pomeranians, or Maltese? Orthopedic beds can also be purchased for small-sized dogs, such as Shih Tzus, Pugs, Poodles, Pekingese, or Boston Terriers. The recommended sizes vary between 18"x13" and 24"x18". You will have to make sure that your dog feels comfortable, with enough space to stretch and turn around as desired. The orthopedic mattress should be big enough to match the bed and supportive, relieving the joint pressure and the subsequent pain.

As the owner of a medium-sized dog, you will need an orthopedic bed that matches your dog's size and weight. You will have to make sure that the dog fits inside the bed, but also that it is supportive enough for his/her weight. Medium breeds such as Beagles, Scottish Terriers, and Shetland Sheepdogs, might need a bed with a size of 30"x20". Keep in mind that a quality bed will resist longer, so be sure to look around for one that matches your demands.

The orthopedic beds for large-sized breeds vary significantly in size. For large breeds, such as Boxers, Springer Spaniels, Australian Shepherd, Bull Terriers, or Bull Dogs, the recommended size is 36"x23". Extra-large breeds, such as German Shepherds, Labrador/Golden Retrievers, Border Collies, Chow Chows, or Doberman Pinschers, might feel comfortable in a bed with a size of 42"x28". The biggest breeds out there, including Great Danes, St. Bernards, or Alaskan Malamutes, might require a bed to fit their large frame, the standard recommended size being 48"x30".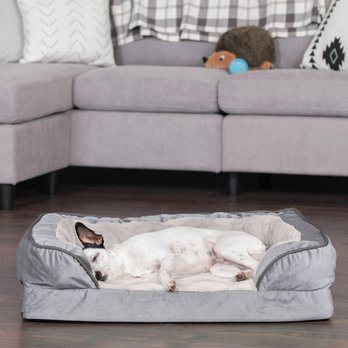 Types of orthopedic dog beds
As humans, we are well-aware of how important the mattress we sleep on actually is. Well, the same goes for our four-legged friends, especially as they advance in age. They require an orthopedic bed to help with achy joints and help them rest comfortably. If you are shopping for an orthopedic bed for your dog, but you are not sure what features are most important, just keep on reading. And remember, the bed should offer three main advantages: comfort, support, and durability.

A quality orthopedic dog bed might come with a memory foam mattress, without pressure points and adequate weight support. It will guarantee an even weight distribution for any dog, relieving the pressure on the aching joints and preventing additional health problems. The main advantage of a memory foam mattress is that it prevents sagging, allowing dogs to get up from their bed without too much effort. Moreover, it will also provide the additional support achy joints might need.

Orthopedic beds are often covered in soft padding for added comfort and security. They might also have a rubber grip base to avoid slipping, with a cover that can be removed and washed. Some models have a human-grade memory foam mattress, which is a definite advantage to consider. Others have a gel-infused mattress, which regulates temperature and relieves joint pressure, and a water-resistant cover, useful in case of accidents. You might notice that certain orthopedic beds are designed with large breeds in mind, with lateral bolsters, multi-layered memory foam mattresses, and a more generous sleeping surface.

The bolster is an important feature, as it can guarantee a comfortable headrest. Large dog breeds definitely need more space, so a bed in a large or jumbo size might be a good idea. The orthopedic foam mattress might be designed in the style of egg crates, promising to soothe pressure points and ensure the necessary joint support. For senior dogs, you might want to consider a bed with raised edges, with one opening for your furry friend to climb in. Some orthopedic beds might easily fit inside a dog crate, representing the perfect choice for senior dogs who prefer a bit of intimacy.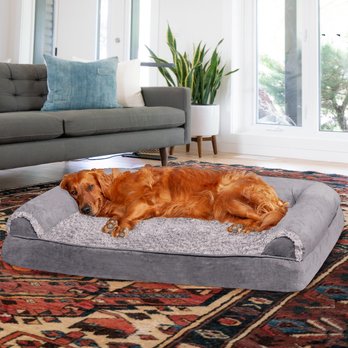 The gel foam is an interesting feature, as it keeps dog cool, dissipating the accumulated heat efficiently across the dog bed. Some foam mattresses are infused with charcoal, so they can absorb malodors. For dogs who have frequent accidents, the waterproof orthopedic bed remains the top choice. If your dog is a chewer, you might want to consider investing in a tear-proof cover, as this will protect the mattress from damage. If you are traveling frequently, you might think about an orthopedic bed that can be set up in the back of your car. There are special models that will keep your dog comfortable, no matter how long the ride will be.
Advantages of orthopedic dog beds
There are countless advantages to be derived from purchasing an orthopedic dog bed. First and foremost, it will allow a senior dog to rest comfortably, relieving the pressure from the achy joints. Thanks to the memory foam mattress, the pain associated with sitting or stretching will be reduced. Moreover, these mattresses often have a gel-based layer, which prevents overheating and facilitates the free circulation of air. Naturally, these beds are best for dogs dealing with joint issues, including dysplasia or arthritis.

From a practical perspective, it is worth mentioning that ortho dog beds come with waterproof lining or cover to prevent staining in case of accidents. Many old dogs are either prone to accidents or suffer from urine leaks, so a waterproof orthopedic dog bed can be of valuable help. Orthopedic beds have thick padding and tall mattresses, so as to prevent the bone-to-floor contact, which might aggravate the joint issues over time. Orthopedic dog beds support both the physical and mental health of your furry friend.

The orthopedic beds are designed for all dog breeds and sizes, but they remain a standard choice for senior dogs and those with joint issues. Most of them have a large opening, so dogs can easily get in and out of the bed. The bolsters can help the dog feel more comfortable and might also provide added security for anxious dogs. Anxious dogs might prefer spending their rest time inside a crate, and once again you can purchase an orthopedic bed designed especially for that purpose. There are plenty of stylish options to choose from, so you can opt for something that matches the rest of your home décor.

An orthopedic bed might also be beneficial for dogs suffering from back problems. Thanks to the unique design, the pressure on the spine is relieved and the associated pain is reduced. Perhaps the biggest advantage of these orthopedic beds is that they are made to last, with no obvious signs of wear and tear. If your dog is allergic to certain fabrics, there are hypoallergenic covers that can be purchased. As you have seen, the beds can be used not only inside the home, but also in the car or even in crate. The latter are naturally suitable for crate-trained dogs.


Here is why you should buy an orthopedic dog bed
Let's take a short walk through all the benefits of an ortho dog bed! The first thing to remember is that such beds can be used by all dogs, guaranteeing a high level of comfort and support. However, if your four-legged friend deals with joint issues, then purchasing an orthopedic bed is imperative. The memory foam mattress will be good for the dog's joints, allowing him/her to rest comfortably.

Manufacturers offer orthopedic beds for dogs of various sizes and breeds, as you have seen above. Whether used inside the home or for car travels, these beds will keep the dog comfortable. Thanks to the special features, such as the lateral bolster, waterproof lining, or charcoal infusion for bad odor prevention, the bed will quickly become a favorite place to rest. Orthopedic dog beds are easy to clean, including when it comes to accidents. Last, but not least, additional features might be available, such as the gel layer to prevent overheating. There are countless models of orthopedic dog beds to choose from, you just have to take some time and consider what is best for your four-legged friend.

Always remember to check whether your dog fits comfortably in the bed. Pay attention to how much space he/she has to stretch and turn around. If the dog frequently rolls off the bed, this might mean that a bigger one is required. To reduce the risk of slipping and subsequent accidents, make sure that the bottom of the bed is equipped with a rubber, non-slip surface. While there are many affordable options out there, it is for the best to seek a good balance between price and quality, so that your dog gets exactly what he/she needs.

In conclusion, an orthopedic dog bed can be one of the best options for your furry friend, especially if he/she is dealing with achy joints and old age. The most important thing is that your dog is able to rest comfortably. As you have seen, there are numerous features that make orthopedic beds suitable; all you need to do is make sure that the respective bed fits your dog's size and weight. Check out the recommendations made by manufacturers, as these can help you take an informed decision. Choose an orthopedic bed that can support your dog's weight, with consideration to any particularities, such as the risk of accidents. Opt for a cover that is either waterproof or machine washable. With older dogs, pay attention to the features that will help them rest even more comfortably.