Waterproof dog bed
Waterproof dog bed
What should I know about waterproof dog beds?
Waterproof beds for dogs in different sizes
Different types of waterproof dog beds
Advantages of waterproof dog beds
Reasons to buy a waterproof dog bed
Choosing a waterproof dog bed
There are several reasons for which you might be interested in a waterproof dog bed. Maybe you live in a water-based area or in the near proximity of boats, and your dog is accustomed to living in the open outdoors. A waterproof dog bed will not be ruined by the rain or other elements. Maybe you are dealing with a puppy who hasn't been toiled trained yet or you have a senior dog with bladder issues. No matter the reason, a waterproof dog bed can help you a lot, as you won't have to deal with frequent replacements or clean messes all the time.

As you might be aware, there are different types of waterproof dog beds out there. Most of them typically have a waterproof liner, which will prevent the memory foam or padding from becoming wet. Other beds have a waterproof base, which will keep various fluids from leaking onto the floor. It might not be easy to choose the best bed for your dog, so we have put together some information that you can use. Just keep on reading to discover everything there is to know about waterproof beds.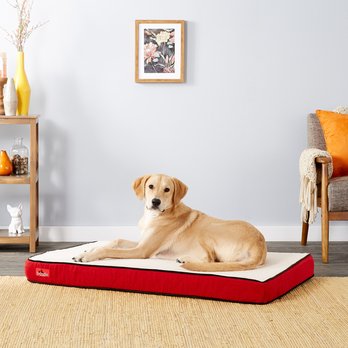 Does your dog need a waterproof dog bed?
This is one of the most important questions to ask yourself, especially since waterproof beds are not necessary for every dog out there. A waterproof bed might be a good choice for the potty-training period, as puppies are more likely to have accidents. With such a bed, you will have to worry less about cleaning up after your pup. Senior dogs might also benefit from a waterproof bed, particularly if they are dealing with incontinence. It will be easier to clean after your dog, not to mention you can opt for an orthopedic mattress to ensure his/her comfort.

Even though this does not happen frequently, a waterproof bed might help in case of vomiting. Liquids can gradually damage the bed padding, leading to unpleasant smells and even mold. The waterproof liner can make a genuine difference whereas such matters are concerned. From a practical perspective, the waterproof bed is more resistant to mud and water, and you can clean it within minutes. If you are interested in the outdoor use, this bed is the perfect choice. As previously stated, they are resistant to weather elements, with a reduced risk of becoming moldy or damaged over time.
Choosing a machine waterproof dog bed by size
First and foremost, the size of your dog should guide your buying decision. As you will see for yourself, the same type of waterproof bed might be available in different sizes. What you need to do is measure your dog, from the nose to the end of the tail, adding a bit to the final measurements for comfort. The bed should be enough for the dog to stretch and turn around, and there shouldn't be a risk of rolling off. Most manufacturers offer a measurement chart, which can be quite useful in such situations.

If you have a small dog, such as Chihuahua, Pug, or Teacup Poodle, then you should look for a small bed as well. For medium-sized breeds, such as Border Collies or Cocker Spaniels, naturally you will need a bigger bed. Large breeds, such as Golden Retrievers, German Shepherds, or Great Danes, will require a large bed. Last, but not least, you have the extra-large dog breeds, such as St. Bernards. For them, manufacturers offer custom-made beds, which will be able to support both their weight and size.

Waterproof dog beds are made from quality fabrics, resistant to water and staining. As a result, your dog's comfort is guaranteed. If you are the owner of a senior bed, you might consider an orthopedic bed, preferably one with a memory foam mattress. This type of bed can relieve the pressure from the joints, keeping your dog in the best possible state of health. You might want to add a waterproof cover for better protection.

This might be obvious, but a waterproof dog bed is also easy to clean. If your dog had an accident or has made a mess, it won't take you more than a couple of minutes to clean it. Always choose a bed that has a removable cover, which is also machine washable. Once an accident happens, all you will have to do is remove the cover and wash it. Last, but not least, think about your dog and how he/she prefers to rest. Dogs who love to curl might do well with a circular bed, while those who like to stretch are best suited for rectangular beds. Bolsters might be a nice bonus for dogs who prefer to read their head on something while sleeping.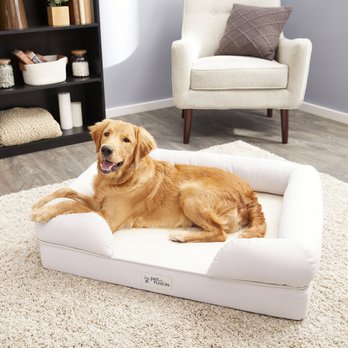 Types of waterproof dog beds
If you are not certain which waterproof dog bed might be the best, take your time to organize a list of the best features to search for. Naturally, a waterproof bed should match up to the promise, preventing the water penetration. However, you might also look for a bed that does not absorb smells and is easy to clean. Durability is also an essential factor, especially if you have a chewer or digger at home.

A quality bed will have a waterproof inner lining to protect the mattress from water-related damaged, as well as a waterproof removable cover that is machine-washable. For senior dogs, the memory foam mattress represents the best choice. Many waterproof dog beds are made from hypoallergenic materials, so that they can be used by dogs who suffer from allergies. With regard to leaks, there is a claim of slow absorption which stands true. Moreover, these beds are meant to withstand weather elements and accidents at the same time, being quite suitable for outdoor use. It should come as no surprise that they can resist both dew and rain, as well as the intense heat.

Some of these waterproof beds are made from durable fabrics, so they can resist chewing, digging, and other unwanted behaviors. They might have a non-skid bottom or elevated legs, depending on your preference. Certified mattresses are available, so you can be sure that no harmful chemicals have been used. You might also want to consider a bed in a neutral color such as slate gray, chocolate brown, or sandstone, as these can hide hair shedding. Pay attention to the stitches and seams, as these can also contribute to the sturdiness of a bed. Remember that not all beds are recommended for aggressive chewers. Also, some of these might be portable, so you can take your dog with you while traveling.

Elevated waterproof beds might be recommended for chewers or diggers. These usually have a sturdy metal frame, which makes chewing impossible. The fabric is made from heavy-duty HDPE (high density polyethylene) and it is waterproof, breathable, and resistant to less pleasant behaviors. This fabric can also resistant to mold and it deters both fleas and mites. The elevated design can promote the free circulation of air and prevent overheating, but it is also beneficial for joint issues, relieving the pressure experienced. Such beds are lightweight and can be used for travels, being suitable for both indoor and outdoor use.

Many beds come with a waterproof cover that you can simply slip over the mattress. Should your dog have an accident, the liquid will gather on the cover, without any penetration. Then, you can remove the cover and toss it in the washing machine. As for the memory mattresses, many of them are anti-microbial, protecting your four-legged companion against illness. At the same time, they are keeping the dog's spine in the correct position. If your dog suffers from incontinence, you might opt for a fiber mesh mattress, which will allow leaks to fall into a tray underneath the bed. You can then clean or spray the mesh mattress.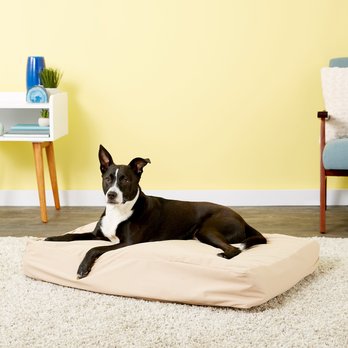 Do not confuse water-resistant dog beds with those that are waterproof. Even though water-resistant dog beds will provide some protection against fluids of various sorts, they cannot prevent the damage altogether. Naturally, these will not resist the constant exposure to weather elements, such as the rain. Waterproof beds, on the other hand, will offer adequate protection against water and various other liquids. Before making any purchase, it is for the best to read the information carefully. Also, remember that it is always a good idea to invest in a quality bed, one that will meet all of your requirements.
Advantages of waterproof dog beds
As you have might understood, the main advantage of a waterproof dog bed is that it allows for easy cleaning once an accident has occurred. Whether equipped with a waterproof lining, cover, or both, such beds can be useful for incontinent or senior dogs, as well as puppies who are still not toilet trained. If an accident has occurred, it does not require more than a couple of minutes for it to be cleaned. The durability of such beds is undeniable, as they can be kept outdoors without any issue of damage. In fact, these beds are made to withstand weather elements, dust, mud, and water. At the end of the day, all you have to do is remove the cover and wash it. Sometimes, wiping it off might be enough.

It is also worth mentioning that the waterproof dog beds can be equipped with orthopedic features, such as the memory foam mattress. As a result, they represent a good choice for senior dogs leading with joint issues, such as arthritis or hip dysplasia. In case you live in a warm climate, the bed might have elevated legs, which will protect the dog from overheating. From an aesthetic point of view, these beds come in a wide array of materials and styles; the recommended tones are the neutral ones, so that hair shedding is not that obvious, as previously stated.

What about chewers and diggers? Or playful dogs who simply like to thrash their bed? Well, you might be happy to discover that there are plenty of waterproof dog beds designed for dogs with such behaviors. These are made from sturdy, durable materials, such as polyester and steel. The actual bed is a mesh mattress, which is also easy to clean. As already mentioned, these beds are available in all sizes, so you will definitely find something for your dog. You might even purchase a circular or rectangular bed, depending on your dog's sleeping preferences.
Here is why you should buy a waterproof dog bed
Let's go over all the benefits of a waterproof dog bed! The first thing to remember is that such beds are perfect for puppies who are undergoing toilet training, as well as senior dogs with achy joints and incontinence issues, guaranteeing a comfortable resting experience. If your dog is dealing with arthritis or other similar conditions, it might be a good idea to get a waterproof bed with orthopedic features. The memory foam mattress is a good idea, as it will relieve the joint pressure and help your dog rest more comfortably.

The waterproof dog beds are available for dogs of various sizes and breeds. Whether you are planning on using them in the open outdoors or inside, it is guaranteed that your dog will love their comfortable bedding. The waterproof lining, in combination with the waterproof cover, will keep accidents at a safe distance. Additional features, such as the bolsters, raised legs, or gel layers, will add to the comfort experienced. All you have to do is take some time and think about the type of bed your dog would feel comfortable in the most.

In conclusion, a waterproof dog bed can be a good option for your four-legged friend, especially if he/she is dealing with bladder issues or toilet training. The most important thing is that the bed is actually waterproof and not just water-resistant. As you have seen, there are countless features that make the waterproof bed comfortable, including the memory foam mattress. Just make sure that the respective bed can fit the dog's size, being supportive enough for his/her weight. It might also be a good idea to check out the manufacturer's recommendations, as these can help you quite a lot.