Washable dog bed
Machine washable dog bed
What should I know about washable dog beds?
Washable beds for dogs in different sizes
Different types of washable dog beds
Advantages of washable dog beds
Reasons to buy a washable dog bed
Choosing a washable dog bed
As a pet parent, it is only normal to want the best for your dog. A good night's sleep is essential for your dog's physical and mental health, so it makes sense to invest in a quality bed. Whether you have a puppy who is just learning about the world or a senior dog with set habits, the bed he/she sleeps in is bound to get dirty. As dust and dirt begin to accumulate, you might notice an unpleasant odor. Moreover, a dirty bed can also harm your dog's health. Considering all these risks, it might be a good idea to opt for a washable dog bed.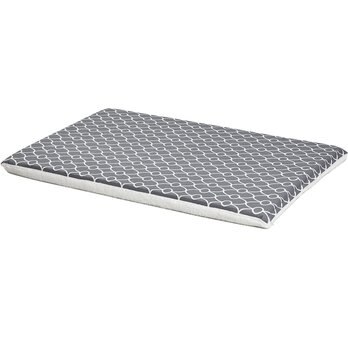 What should I know about washable beds for dogs?
As their name clearly points out, the washable dog beds can be easily cleaned. Most of them are machine washable and dryer ready, being made from high-quality materials. Even though it is true that dogs can sleep anywhere, a comfortable bed might be quite appreciated. This is especially true if your dog is older and dealing with achy joints; a quality bed will relieve the joint pressure, helping your canine companion rest better. Comfort is important for any dog in the end, especially after a full day of physical activity. Many beds are equipped with memory foam mattresses, providing an optimal level of support.

For many dogs, the washable dog bed will become a safe space, where they can relax and unwind after a full day. A quality bed must be able to offer the necessary support, with a comfortable mattress that guarantees pain relief. Memory foam mattresses ensure that the weight is evenly distributed. Depending on the climate in which you live or the temperature inside the house, you might think about the temperature regulation. For instance, you can choose a bed with elevated feet or a mesh mattress, as these options will ensure the proper circulation of air. On the other hand, if you live where it is cold, you might choose a bed with a plush cover.

Never choose a washable dog bed without taking your dog's size and weight into account. It might also be a good idea to think about the sleeping position. Some dogs prefer to curl and sleep, while others need more space to stretch. Measure your dog, starting from the nose to the end of the tail, and also from the shoulder to the paw. For pups, take into account the fact that they will grow into adults, requiring more space over time. Senior dogs might require a waterproof bed as well, especially if they are dealing with bladder issues. The cover can be waterproof or at least water-resistant, so you can clean it without too much effort.
How to keep your dog's bed clean
A washable dog bed should be cleaned at least once a week or even more often if you have an active dog. Aside from washing the cover, you might consider using a stain remover. There are quality products that can be purchased to clean stains thoroughly, all you have to do is apply it before throwing the cover into the washing machine. It is also recommended to vacuum the cover regularly, so as to remove the accumulated dust and debris. Most vacuums have an upholstery attachment, which can be quite useful.

When washing the bedding or cover, be sure to use a pet-safe detergent. Many detergents contain chemicals, posing a health risk for your canine companion. This is especially important if your dog has sensitive skin or suffers from allergies. Check the manufacturer's recommendations with regard to the washing temperature. High temperatures are commonly allowed in order to get rid of potential germs and bacteria. Be sure to give your dog regular baths, as this will also ensure the bed stays clean for a longer period of time. You might organize a regular schedule for baths, taking to the vet in regard to the recommended frequency. You might not be aware of this for a fact, but frequent baths might lead to dry skin and fur damage.
Choosing a machine washable dog bed by size
Small dogs will need a bed that feels comfortable, without being too large. Breeds like Pugs, Shi Tzus, and Bichons might do with a small-sized bed, preferably with raised edges to offer a feeling of security. There are washable dog beds with orthopedic features, recommended for dogs dealing with arthritis, hip dysplasia, and other joint issues. The most important thing is that the dog enjoys the bed, having adequate space to stretch and turn around. A supportive mattress might also be a good choice for dogs who have back issues.

A bigger bed is necessary for a medium-sized dog, such as Beagle, Shetland Sheepdog, or Scottish Terrier. Once again, you will have to make sure that the dog fits comfortably in the bed, but also supportive enough for his/her weight. As recommended, measure your dog and check the manufacturer's instructions before making any purchase. A quality bed with a firm mattress will last longer, but make sure it is easy to clean at the same time.

Large-sized breeds, such as Bull Terrier, Bull Dog, Australian Shepherd, Springer Spaniel, or Boxer, will require a bed that matches both their size and weight. The same goes for extra-large breeds, such as Doberman Pinscher, Chow Chow, Border Collie, Labrador/Golden Retriever, or German Shepherd. If you are the proud owner of an exceptionally large dog, such as Alaskan Malamute, St. Bernard, or Great Dane, you might need a bed with a large frame. There are custom made beds for such breeds, so be sure to inquire about such options.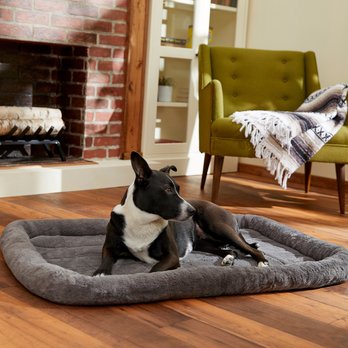 Types of washable dog beds
If you are on the market for a washable dog bed, there are certain features you should be on the lookout for. First and foremost, you should make sure that the cover is removable, as well as resistant to stains and tears. You will need to choose a sturdy bed, which can withstand the wear and tear process, especially if your dog is the active kind. The same goes for dogs belonging to larger breeds, with a considerable weight.

For dogs who are dealing with joint issues, you should consider a bed that can provide optimal comfort and adequate support. Orthopedic features, such as the memory foam mattress, can keep your dog comfortable, relieving the joint pressure. Many washable dog beds are equipped with a non-slip fabric at the bottom, so that sliding is not a risk. If your dog likes to rest his/her head, you might consider a bed with raised edges or bolsters.

Remember that the washable dog bed is a good choice for puppies, who are not toilet trained yet. Accidents are frequent during the training period, and you will need a bed that can be easily cleaned. The waterproof base prevents fluid leaks onto the floor, and you can also get a waterproof cover to minimize the cleaning process. These covers are usually made from heavy-duty nylon. Both the cushions and comfort ring might be thrown in the washing machine, which is a definite advantage to consider.

It can be comforting to know that you can throw the entire bed into the washing machine. This is particularly important if you have an active dog, who is over-friendly with dirt. To get rid of bacteria and unpleasant odors, all you have to do is wash the bed regularly. Just pay attention to the washing care instructions, as mentioned above, as this will guarantee that the bed retains both its shape and support. Even if you have such a bed, a washable dog bed cover might still be a good idea. These covers are easy to wash and they will protect the bed, reducing the risk of wear and tear over time.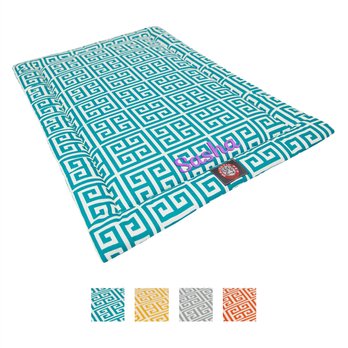 Thick bedding might be recommended for dogs who live in colder climates. The plush pillow dog beds are fully washable and have a thick bedding, which will satisfy your dog's nesting desire. Burrowers might adore the plush material, finding the bed to be quite comfortable. Some beds have three raised edges, with a flat surface on one side, so that dogs with sore joints can step into and off the bed. Hypoallergenic materials are used for both the actual bedding and cover, catering to the needs of dogs who suffer from allergies. You might also consider a bed with a reversible design, as this type of bed is suitable for all seasons.
Advantages of washable dog beds
Naturally, the biggest advantage of a washable dog bed is that it can be easily cleaned. Imagine your pup having an accident and you being able to throw the entire bed into the washing machine. How amazing is that? Of course, you might also invest in a waterproof cover, as this will prolong the lifespan of the actual bed. Plus, waterproof covers can be cleaned within minutes, should an accident occur. They are resistant to both stains and tears, being made from high-quality fabrics.

The good news is that the washable dog beds can be used by dogs of various sizes, breeds, and ages. Active pups can rest comfortably in such a bed, which can even be accommodated to their size over time. Senior dogs might feel comfortable in a bed with orthopedic features, such as the memory foam mattress. The bed will provide relief from the joint pain, with additional benefits for their physical and mental health.

It is also worth mentioning that such beds often have a high-quality polyester filling, which is both soft and comfortable. This type of filling is easy to wash, preferably on a gentle cycle in the machine. Also, you can use the dryer for such beds, but make sure to avoid high temperatures, as these can destroy the bed. A good bed is one that has a soft filling, which doesn't go flat with the passing of time.

As previously stated, the reversible design is another great option. One side is destined for the winter period, made from warm and comfy materials, such as knitted corduroy. The other side is best suited for the hot days of summer, being often made from materials with cooling properties, such as faux suede. There are a lot of colors, styles, and textures to choose from, so even the most pretentious dog owner will find something to like.
Here is why you should buy a washable dog bed
Let's take a short walk through all the benefits of a washable dog bed! The first thing to remember is that these beds can be used by all dogs, especially by active pups and senior dogs who are prone to accidents. Thanks to the high-quality materials from which they are made, they guarantee a suitable level of comfort and support. For canine companions dealing with joint issues, there are beds with orthopedic features available. The memory foam mattress will relieve the joint pressure, allowing the dog to rest comfortably during the day or night.

The washable dog beds are available for dogs of various sizes and breeds, with a lot of interesting features. The bolsters or raised edges can offer the necessary neck support, while the waterproof base ensures the bed will not be ruined in case of accidents. The same goes for the waterproof cover, which is resistant to stains and tears. You might choose a bed with a reversible design to match all the seasons or one with elevated legs to prevent overheating. It is also recommended to check whether the dog fits comfortably in the bed. A non-slip bottom might reduce the risk of injuries, especially in senior dogs.

In conclusion, a washable dog bed can represent a good option for your canine companion, particularly if he/she is prone to accidents. The most important thing is that your dog is able to get a good night's sleep. As you have seen above, the washable beds can have a waterproof base, a waterproof cover, or both. Check out the manufacturer's instructions on how to take care of your dog's bed, especially when it comes to machine care.