Outdoor dog bed
What is outdoor bed for dog?
What should I know about outdoor dog beds?
Outdoor beds for dogs in different sizes
Different types of outdoor dog beds
Advantages of outdoor dog beds
Reasons to buy an outdoor dog bed
Choosing an outdoor dog bed
When selecting an outdoor dog bed for my pet, what are some things to keep in mind? If you live somewhere warm or are just preparing for the summer season, perhaps you might be on the market for a quality outdoor dog bed. Like with other dog accessories, there are plenty of options to choose from, so the whole shopping experience might be a bit confusing. In the following paragraphs, you will discover the most important things to remember about outdoor beds for dogs, along with features to be on the lookout for, advantages they have to offer, and a few reasons for which they are worth the investment. Remember that your four-legged friend deserves the best, including when it comes to sleep and rest in general.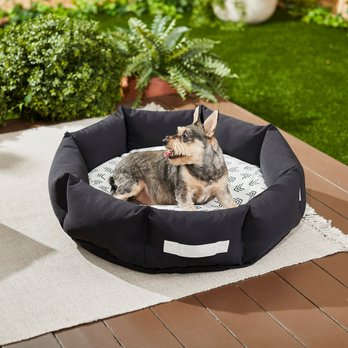 What should I know about outdoor beds for dogs?
As the name clearly points out, an outdoor dog bed is meant to be used outside. The first recommendation is to look for beds that are made from high-quality materials, which are also non-toxic. Many manufacturers provide pet-safe certification for their products, so be sure to check out whether this is accurate or not.

If you are also planning to use the bed when the weather is less warm, then you should choose a bed with adequate bedding. This will ensure that your four-legged friend stays warm, no matter the temperature outside. As for the warm weather, it is for the best to go with synthetic materials. These dry up fast and are easy to clean, providing a good level of comfort. You might also go with natural materials such as cotton. These absorb excess moisture, being suitable for the colder weather. Even though these are comfortable, they might require more maintenance, with frequent washing and cleaning.

Durability is another major aspect to be considered. Choose a bed that can withstand weather elements, without suffering irreparable damage. In choosing a particular outdoor dog bed, think about your dog and his/her specifics. Do you have a chewer? Then it might be a good idea to go with a durable fabric, such as nylon ripstop. This will last a long time, resisting even the most persistent chewer. However, if your dog is on good behavior all the time, you can opt for a bed made from natural materials.

Speaking about behavior, if your dog likes to jump on the bed or practice digging, you will also need a durable bed. For dogs who have an affinity for mud and dirt in general, a waterproof bed might be recommended. You can either opt for a waterproof base or cover, or both, depending on your four-legged friend and how much he/she likes to cover himself/herself in dirt.

If you live in a colder climate, perhaps you might consider an electrically heated outdoor bed, as this will keep your dog warm. A bed with a thick padding is recommended for cold days and you might also purchase a canopy to protect against the rain. Wool is an excellent choice for when the temperature drops, but keep in mind that such materials are not waterproof. You might need to put the bed in an area protected from snow or rain. For areas with high humidity, a raised bed will allow for the free circulation of air, preventing overheating or heatstroke. Synthetic materials are resistant to weather and contribute to temperature regulation at the same time.
Choosing an outdoor dog bed by size
A good bed is one in which your dog feels comfortable. While you might expect for outdoor dog beds to come in standard sizes, you should know that size differs according to the model and manufacturer. The good news is that most manufacturers offer measurement charts, so you can choose a suitable bed without difficulty.

Small-sized dogs, such as Maltese, Pomeranians, Yorkies, or Chihuahuas, will naturally benefit from a bed in their size. The same goes for other breeds, such as Poodles, Pugs, or Shih Tzus. What you need to do is make sure that your dog feels comfortable, with an ample amount of space to stretch and turn around. If your dog is also dealing with achy joints, then perhaps you should also consider an orthopedic mattress, preferably with memory foam.

A larger outdoor bed will be necessary for medium-sized breeds, such as Shetland Sheepdogs, Scottish Terriers, or Beagles. As always, you should ensure that the bed matches both the dog's size and weight. It might be a good idea to measure the dog, from his/her nose to the end of the tail, before making any actual purchases. The same goes for larger breeds, such as Bull Dogs, Bull Terriers, German Shepherds, Border Collies, or Boxers. Make sure to choose a bed that fits their large frame. For the extra-large breeds, such as Alaskan Malamutes, St. Bernards, or Great Danes, a custom-made outdoor dog bed might be the best choice.

How can you determine whether the bed is a good fit? First and foremost, check that your dog fits comfortably, no matter the position. If his/her legs are falling out or it looks like he/she is about to roll off, then the bed might be too small. On the other hand, with a small dog, if the bed is too large, he/she might not feel comfortable and even experience anxiety. Comfort is even more essential for a senior dog, especially if joint issues are present.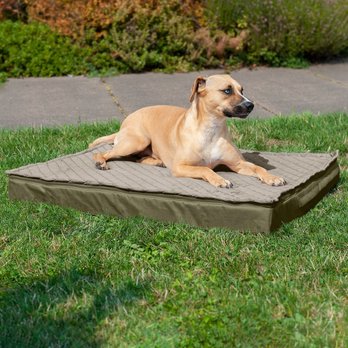 Types of outdoor dog beds
It can be a good idea to organize a list of features and shop according to these. One of the essential features a quality outdoor dog bed should have is a water-resistant cover. This is particularly important if you live in an area where rain is frequent. Durable, waterproof fabrics are perfect for rainy days. On the other hand, avoid fluffy covers, no matter how cute they might look. They will only retain water, becoming the perfect environment for bacteria to thrive and develop.

What happens if water gets into the bed? The risk of mold and damage increases considerably. This is the reason why the outdoor dog bed should have a mold-resistant filling. You can opt for plastic or foam, as these are more resistant to humidity and water than other materials, such as cotton or fleece. Also, and we cannot stress this enough, the cover should be removable and machine washable. An outdoor dog bed is bound to get dirty, so such a cover is more than necessary.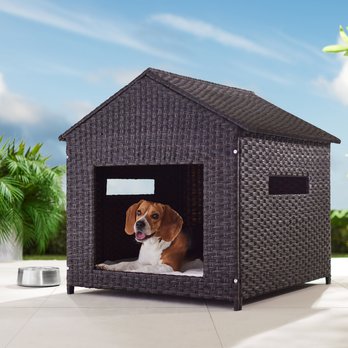 Even though it is tempting to purchase a bed that has a striking pattern or design, think about the environment in which you will keep it. Outdoor beds are exposed to the elements and, whether we like it or not, they are going to fade over time. Choose a pattern/design that will fade well, so that your dog can spend time in the respective bed for more than a season. Remember to select a bed in the right size, but also pay attention to comfort and coziness. The filling should be firm enough to guarantee comfort, as well as insulation or heat dissipation, as the case might be. Last, but not least, opt for a bed with quality finishing; pay attention to the seams, edges, fasteners, etc. The bed should be sturdy enough to stand up to the great outdoors.
Advantages of outdoor dog beds
Perhaps the most notable advantage is that outdoor dog beds offer your four-legged friend the opportunity to rest and relax. In a comfortable bed, he/she can enjoy the great outdoors, feeling closer to nature. From a practical perspective, such beds are both comfortable and durable, representing the perfect choice for a dog who enjoys spending time outside. As dogs tends to overheat quickly during the summer, an outdoor bed might be just what your dog needs to feel comfortable. When it comes to the cold season, a quality bed with thick padding and waterproof cover can keep your dog warm and cozy.

There is another advantage worth mentioning and that is portability. If both you and your dog enjoy the great outdoors, perhaps you might consider going hiking or camping together. Having a suitable bed for your dog can help him/her relax and feel comfortable, no matter the location. In fact, you might even spend some time together in the backyard. Lightweight outdoor dog beds are easy to set up and clean, and let's face it, perfect for spending the night under the stars. However, if your dog is not accustomed to the open outdoors or you live in an extreme climate, you might have to re-think your decision to purchase such a bed.

Outdoor dog beds have a sturdy bottom, which offers protection against the frozen ground, hot concrete or sand, and wet grass. Most beds are machine washable, so you can clean them easily. You should be able to clean the sand and dirt without too much effort, and upon the bed getting wet, it should dry quite fast. If the bed was near a campfire, the smoky scent should be removed by washing. Additional features are always available, including a heat source for cold climates, raised feet for ventilation, and canopies for shade.

As mentioned above, the filling is made from quality materials, resistant to humidity and mold. Pay attention to the fact that certain beds have a machine-washable cover but cannot be dried in the dryer. Also, the sturdier the filling, the heavier the bed will be, which makes it unsuitable for traveling. Cushioning is a big advantage for outdoor dog beds that will be placed on concrete or wooden surfaces. For senior dogs, you might consider an orthopedic egg-crate foam for added comfort. Wooly mats remain excellent for dogs living in colder climates, with such beds having a sturdy design and being suitable for almost any kind of outdoor terrain.

Outdoor dog beds might have a mesh in the middle, which will allow for the free circulation of air. The raised construction remains the best option for dogs living in warm climates. Other beds have a bottom that heats up, with a fleece cover that guarantees adequate insulation. As the canopy is attached to the bed, you don't need to worry about your dog feeling cold. However, it is not waterproof, which means you will have to place it in a covered area.


Here is why you should buy an outdoor dog bed
If your dog loves the open outdoors, then you should definitely consider getting an outdoor dog bed for him/her. Dogs who live in warm climates might not be accustomed to spending time inside, but they will not refuse a comfortable outdoor bed. As for those who are dealing with lower temperatures, as you have seen, there are plenty of outdoor beds to keep them safe and warm. Just make sure they are also waterproof, if not, place them in a protected area. Outdoor dog beds have countless features to offer nowadays, including orthopedic mattress for dogs with achy joints and raised feet for heat dissipation.

You might also purchase an outdoor dog bed for the trips you will take together. The outdoor dog bed can be easily set up near your tent and there are plenty of foldable options to consider, designed especially for traveling. Most beds of this kind are easy to clean, being equipped with a waterproof cover. Even if your dog is a chewer, you can still find a good bed with durable covers. Last, but not least, outdoor dog beds are available in different sizes, which means you can find something to suit your four-legged friend to perfection.

In conclusion, an outdoor dog bed can represent a good choice for your canine companion, especially if he/she is accustomed to spending time outside. As with any other dog bed, comfort remains a top priority. However, you should also make sure that the bed can withstand weather elements and that your dog does not suffer from the cold or heat. As previously stated, there are specific features to be on the lookout for, in order to keep your dog warm or protected from heatstroke. Check out the recommendations made by manufacturers, including when it comes to choosing a bed of the right size. If your dog is suffering from joint issues, do not forget about the orthopedic mattress, as this can relieve the joint pressure and help your dog rest comfortably.