Dog portable crate
Dog travel crate
Differences between portable dog crates
Portable dog crate - sizes
What are portable dog crates?
Portable dog crates, as their name clearly points out, are meant to help pet owners carry their furry friends wherever necessary, including on their travels. Fortunately, the market abounds with options, so it is practically impossible not to find something you are satisfied with. While shopping for a travel dog crate, you must think of features such as safety, comfort, and durability. The most important thing is that your dog feels safe inside the crate, so that you can reach your destination without too much trouble or worry. If you are looking to find out more information on the topic of portable dog crates, just keep on reading this article.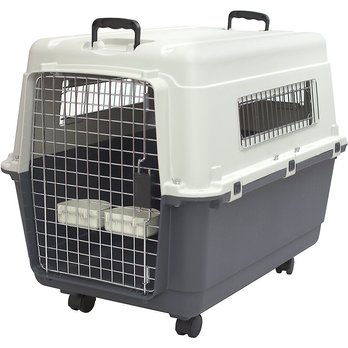 What are portable dog crates? And what are the advantages they offer?

Also known as dog travel crates, these allow owners to ensure that their pet travels in comfort. Offering a safe, enclosed space, they are ideal for short or long travels. Moreover, once you have reached your destination, a crate can represent a safe space for your dog, one in which he or she can experience a lower amount of anxiety.

When it comes to advantages, portability is naturally the first and most important one. If you want or need to travel with your dog, a portable dog crate represents the logical thing to have. These crates can keep your dog comfortable and happy during our travels, which is another advantage to consider. It is important to remember that many dogs either experience overexcitement or anxiety when it's time to travel, so keeping them contained might be essential. Portable dog crates can help dogs relax and calm down, ensuring their safety at the same time.

From a practical perspective, it is worth mentioning that a portable dog crate is made from flexible fabrics or plastic, which means that it is lighter in weight and, thus, easier to carry. However, the particular choice of crate depends on both the size and breed of your dog, so shopping around is a must. One must also pay attention to the behavior of the dog, as soft crates are not recommended for dogs who are escape artists or chewers. The good news is that most dogs become accustomed to the portable dog crate quite fast, enjoying the familiarity and comfort that it offers. For you, the owner, the fast adaptation offers peace of mind as well.

Portability might represent an advantage not only for travels, but also for any short trips or errands you might need to take. Maybe you want to go out with friends or wash your car, but you don't want to leave your pet alone at home. With a portable dog crate, you can be certain that your pet is safe, while you handle various activities. A good crate will allow you to transport the dog from one location to the other, with minimal physical strain. You might notice that your dog has even gone to sleep, as he/she perceives the crate as a safe environment.

Portable dog crates are accepted in most means of transportation, including planes, trains, and even some buses. For puppies, it might offer the best method of traveling, not to mention you will keep the risk of accidents contained. As for older or senior dogs, a portable dog crate allows them to travel in style, with plenty of place for them to rest. Even a short trip with a dog to the vet can be a comfortable experience with a portable dog crate, which is a definite advantage to consider.

The easy storage represents another advantage worth considering. As many dog owners live in small apartments, the issue of storage is always at the top of the worry list. With a collapsible dog crate, for instance, you won't have to worry about such matters. Most models can fold flat and stored within seconds. You can carry it around in your car for when your dog might need to be crated.
Different types of dog travel crates
Just a quick search on the Internet will reveal hundreds of portable dog crates, all with different features and advantages. If you are feeling confused when it comes to choosing a particular crate, perhaps we might be of help. In the following paragraphs, we will talk about the differences between various portable dog crates, so you can take an informed decision.

Collapsible dog crates are quite popular at the moment, given the advantages that they have to offer. With a sleek design, they are made to allow for everyday travel, without occupying valuable storage space. However, you must not think that these are not durable or resistant; on the contrary, they are actually lightweight and strong. Moreover, some of these crates have stackable corners, which means that you stack them one on top of the other. They represent the perfect choice for someone who has several dogs and not enough storage space.

Many dog owners prefer the collapsible dog crates, as they are easy to store and even easier to set up. Modern versions can collapse in an instant, folding flat for the perfect storage. Even those with a steel frame can be foldable, so you can consider such options for escape artists or chewers. Durability is never an issue, as these crates are made to last. Some are equipped with high-quality padding, which means that your furry friend will be able to maintain his/her body heat effortlessly. It is also worth mentioning that collapsible dog crates, such as the ones made from plastic, are approved by most airlines for air travels.

Plastic dog crates are often chosen because of their portability and other advantages they have to offer. These are usually lightweight and equipped with straps or handles, so it is easier for dog owners to carry them. Given the material from which they are made, durability is guaranteed. Many of them have ventilated openings on the side, so that the dog can get plenty of air, and are also waterproof, which is beneficial in case of weather-related events.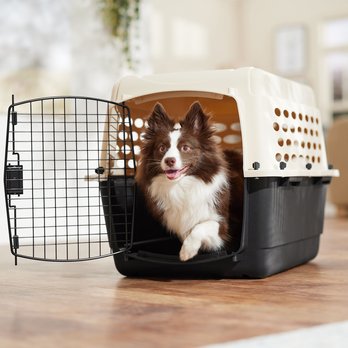 As mentioned above, they can have padding for adequate insulation and are approved by airlines as safe for air travels. Many dog owners might use the collapsible plastic dog crate for toilet training their puppies. Some plastic dog crates are equipped with a bowl or a detachable tray for food and water, and the assembly process is quite simple, with no additional tools required. They might have double-hinged doors for easier access, from either the left or right side.

Aside from plastic, portable dog crates can be made from soft fabrics. These are anything but bulky and often appreciated for their light weight. It is worth mentioning that these crates are less expensive, being available in a wide range of styles and colors. They are padded with fabric to increase the level of comfort offered and have better ventilation. However, they are not recommended to dogs who are used to chewing or those who always attempt to escape. Aggressive dogs will need a sturdier dog crate during transportation.

Wire dog crates are best for chewers, escape artists, and aggressive dogs. They are made from wire mesh panels, ensuring the best possible ventilation and facile transportation. As they are also collapsible, storage is simple. As you might notice for yourself, most wire dog crates offer long-term durability and no chance of escaping or chewing through the bars. A wire dog crate might represent a good choice for anxious dogs, as they can see their surroundings and, thus, feel less isolated.

Some portable dog crates are equipped with a removable tray for easier cleaning, while others have removable wheels for easier transportation and storage. Generally speaking, the crates meant for large dogs are equipped with wheels, instead of carrying handles. Other crates have a top load feature, which allows dog owners to put their furry friend into the crate through the upper part. This is recommended for small dogs, who might be anxious to walk into the respective crate through the door.


Portable dog crates for different dog sizes
When shopping for a portable dog crate, the size represents one of the first things to be considered. It is essential that you purchase a crate that is the correct size, otherwise your dog will not be comfortable and secure. In the following paragraphs, we will teach you about the different breeds and sizes, and how to select the best crate for your dog.

A small dog will require a small crate. Breeds like the Maltese, Pug, or Shih Tzu do best with a crate that is smaller in size. How can you tell if a crate is too small? Well, you need to verify whether the dog can stand without the head touching the top part of the crate. You might also have to check whether the dog can lie down, with the legs stretched out completely. Last, but not least, the dog must be able to turn around in the crate without any difficulty. Remember, if the crate is too small, your dog will feel uncomfortable and might even become anxious. The size chart of each product will give an indication of the right option for your dog.

If you are the proud owner of a medium-sized breeds, such as Border Collie, Aussie, or Labrador Retriever, you might consider purchasing a medium-sized portable dog crate as well. In choosing a particular crate, you will have to think about the following aspects: age of the dog, training needs, behavior (chewer, escape artist), traveling needs and method, portability, etc. Pay attention to the aspects mentioned above, as these are valid for bigger dogs as well. A good crate is the one in which the dog can rest comfortably.

In terms of features, portable dog crates for medium-sized dogs can have a single or double door design. They might have a removable pan for easier cleaning and a divider to accommodate growing puppies. Removable wheels might be attached for easier transportation. Recommended sizes are often included in the product information. The crates made from soft materials are often equipped with a steel frame, representing a suitable choice for vehicle travel. Heavy-duty portable dog crates are recommended for dogs who are chewers or escape artists, having bars made from reinforced steel.

Large breeds, such as Golden Retrievers, Akitas, Afghan Hounds, German Shepherds, or Labrador Retrievers, can be transported with portable dog crates as well. Naturally, they will need a dog crate that is suitable for their size, sturdy and durable at the same time. As with the other crates, the recommended sizes can be found from the product information. Dog owners can opt for either soft or wire mesh crates, depending on their furry friend's needs and behavior. They are water resistant, with a waterproof interior. The washable padding can be quite useful during the potty-training period.

The soft portable dog crates are equipped with blackout shades and screen covers, which can offer your dog the much-needed privacy. On the other hand, wire mesh crates are better for dogs who experience anxiety, as already stated. Before buying any portable dog crate, it is for the best to check out the product size chart. Many innovative dog crates are designed with large dog breeds in mind, so you should be able to find a suitable crate for your furry friend. Pay attention to ventilation as well, as this is an important issue to consider. The dual-locked front door might prevent escape artists from engaging in their regular behavior. Heavy-duty dog crates with wheels work for the easy transportation of large dogs.

In conclusion, portable dog crates can help your dog travel comfortably, with his/her safety and comfort as top priorities. As you have seen, there are countless differences between the various portable crates available on the market. Collapsible crates make it easier to travel with a pet, while the plastic ones are known for their durability. It is always a good idea to choose the crate in accordance with the size and breed of your dog. Choose the correct size of travel dog crate and verify whether your dog is feeling comfortable using the suggestions above. Safe travels with your pet!