Wooden Dog Crates
Wooden dog crate
Differences between wooden dog crates
Wooden dog crate furniture in different sizes
What are wooden dog crates?
Wooden dog crates are kennels that can be used to contain your dog whenever necessary. They represent an alternative to plastic or metal crates and can be easily matched with the rest of the furniture inside the home. Just like with the other crates, there are different options out there and choosing a particular one might feel daunting. In the following paragraphs, you will be able to read about the advantages of dog crates, the differences between various products, and how to select the right crate, in accordance with your dog's size and breed. Hopefully, all this information will help you take a decision, without too much stress involved.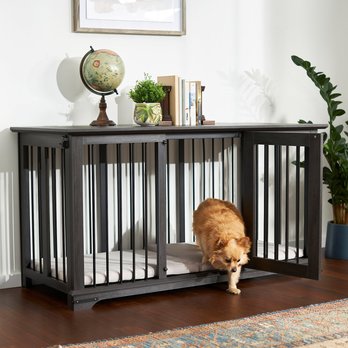 What are wooden dog crates? And what are the advantages offered?

As previously mentioned, a wooden dog crate can help you to contain or transport your dog, as the situation requires it. These crates represent a stylish alternative to those made from plastic or metal, and they can be selected to match the home décor. For many people, having a wooden crate that matches the rest of the furniture is a big plus.

Aside from the aesthetic effect, it must be mentioned that wooden dog crates allow for an easy training process. This is because most dogs feel comfortable in crates made from wood, perceiving them as their safe space. Moreover, they are known for their durability, especially if you will opt for one made from high-quality wood, such as cedar, pine, fir, birch or cherry wood. These crates are resistant to humidity, thanks to the extra coat applied on the entire surface. The opening is big enough for the dog to go through, offering the privacy he/she craves. An enclosed space such as the one offered by the wooden crate can help dogs feel less anxious when alone in the house.

Should you desire to place the crate outside, you should know that quality wooden crates are resistant to extreme weather elements. In fact, there is no risk of rusting or staining, which might also be bad for your four-legged friend. Inside, you might choose to use the respective crate as a table or even a bedside table, thus saving a lot of space, enjoying its aesthetic appearance at the same time. During the winter, the wood crate will keep your dog warm, which is another benefit to consider. From a practical perspective, it is worth mentioning that dog crates are extremely affordable. They are also light in weight and thus very easy to carry.

Wooden dog crates are sturdy and tough, being more suited for indoor use. If you have a higher budget, you can splurge and choose a handcrafted crate, with a unique design. However, keep in mind that some wooden crates are airline approved, so you might consider them for traveling as well. Such crates are best suited for mature dogs, as there is a lower risk of chewing and other destructive behaviors. Most dogs integrate the crate as a space to relax, enjoying the proximity to their human family. The enclosed structure is beneficial for anxious dogs, but you should always make sure that ventilation is not an issue.


Different types of wooden dog crates
If you are shopping for wooden dog crates, you might be surprised at the multitude of choices available. Moreover, a quick look at the different options will reveal that each crate has so many features. How to choose? Well, we can teach you about the most important things to check.

First and foremost, all wooden dog crates offer a stylish way of containing your pet or offering him/her a space in your house. They can be matched with the furniture and the home décor in general, but there are many more advantages to consider. For instance, did you know that wooden dog crates have been known to help puppies dealing with anxiety problems? That is cool!

In choosing a wooden dog crate, you will have to think whether your dog is a chewer or an escape artist. Many dogs are actually willing to chew through the wood, so you need to be careful whereas such matters are concerned. The same goes for dogs with high energy levels, those who are large in size or puppies who still have to go through the growth period. Last, but not least, keep in mind that the sound-dampening properties of wood might be beneficial for an anxious pup or even a mature one.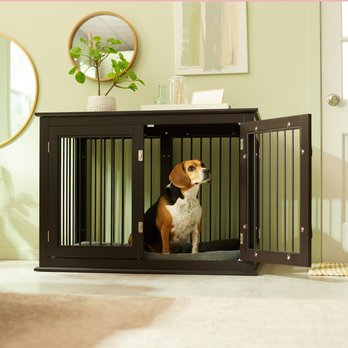 Most wooden dog crates come with a removable bottom tray, which makes the cleaning process quite simple. Moreover, they are equipped with four lockable wheels, so you can move the heavy crate around without any difficulties. If you are looking for multiple placement options, you might consider a wooden dog crate with double doors. Some crates also have a latch at the top, which can be used to place a smaller dog into the crate, especially if he/she has anxiety about going through the actual door. Other owners might use the respective latch to give their dogs some treats for good behavior.

Aside from the style and actual design, you might want to think about the type of top. If your dog is a jumper or an escape artist, be sure to purchase a crate with a closed top design. Otherwise, you can opt for the open top. As for the actual material from which the crate is made, the recommendation is to choose solid wood. The crate might be more expensive as a result, but it will be of a better quality, lasting longer. On the other hand, the crates that made from fiberboard and covered with wood veneers are more affordable and lighter in weight, but less durable. Always pay attention to how sturdy the crate actually is, especially if you have a large-sized, energetic dog.

Some wooden dog crates are designed with functionality in mind. The dog owners can deconstruct them when desired and transform them into indoor dog gates. Metal bars might be added to keep the pet from getting out. The easy-to-clean removable trays represents the best possible protection in case of accidents. However, for a trained dog, you might consider adding a pillow for added comfort. Wooden dog crates can be easily dissembled and stored flat, thus saving a lot of space in the process. This is also the reason for which they might be chosen for traveling.

Recognizing the demand for multi-functional uses, most manufacturers have made an effort to create wooden dog crates that can double as side tablets. In consequence, you might notice that most crates of this kind are fitted with a wide table top, where you can add various items, such as lamps, potted plants, or magazines. For a dog of a larger size or weight, it might be for the best to choose a crate with a reinforced bottom. As for the doors, these are often hinged, or might slide into the side from more freedom (as the situation requires it). Retractable doors have become more and more popular in the past few years, given the convenience.

It is worth mentioning that some wooden pet crates are expandable, allowing the owner to accommodate a growing pup. The floor tray is also expandable, which is a definite advantage to take into consideration. High-quality Japanese models have a solid wooden frame made from rubberwood, which represents an environmental-friendly alternative. Dividers can be purchased to adjust the space in the crate or separate the bathroom area during the potty-training period. While some crates are equipped with ventilation windows made from mesh or wire, others feature vertical slats. These ensure the much-needed ventilation, while helping your four-legged friend feel safe and secure. Interior fans might be added as extra, not only during the summer but also to tone down scary noises, such as thunder or fireworks.


Heavy duty dog crates for small and large dogs
When looking for wooden dog crates, there are a lot of factors to take into consideration. The size of the crate stands at the top of the list. Why? By purchasing a crate that suits your dog, he/she will feel both comfortable and secure. In the following paragraphs, we will teach you how to select the right crate, in accordance with the breed and size for your dog.

Small dogs feel best in small crates. Wooden crates of smaller sizes should be purchased for breeds such as the Toy Poodle, Chihuahua, or Mini Doodle. The most important thing is to determine whether the crate is too small for your furry friend. Keep in mind that the dog should be able to stand, without the head touching the upper part of the crate. Second, he/she must be able to lie down, the legs stretched completely. Last, make sure that the dog can turn around, with ample space around him/her. Should the crate be too small, the dog might not feel comfortable, and he/she might display an anxious behavior. Check out the size chart before purchasing any type of wooden dog crate.

When it comes to medium-sized breeds, of course you will also have to consider a medium-sized crate. Dogs such as Aussies, Retrievers, or Border Collies need adequate space and ventilation. There are several factors to be considered in choosing a wooden crate, including: portability needs, traveling frequency and means of transportation, destructive behaviors such as chewing or escaping, training needs, and the dog's age. Always make sure that your dog rests comfortably inside the crate.

As the owner of a medium-sized dog, you might be aware of the amount of space he/she occupies. If space is an issue, you might choose a wooden dog crate with a double-door design. Pay attention to additional features that can be quite useful, such as the removable tray, lockable wheels, or dividers for growing puppies. Most manufacturers provide detailed information on the breeds for which their crates are recommended, including with consideration to their size. Wooden dog crates need to have a sturdy bottom in order to accommodate medium-sized breeds. For chewers or escape artists, dog crates with metal bars may be more suitable.

If you are the proud owner of a large dog, such as Akita, Doberman Pinscher, Rottweiler, Afghan Hound or German Shepherd, you might need to search for a wooden dog crate that is especially made from large breeds. These are made from solid wood, with a reinforced bottom and steel bars to prevent chewing or escaping. The recommended sizes are presented in the product information of each wooden crate. In choosing a wooden crate with wooden bars, think about your dog and his/her behavior. Also, think about the place where you will put the crate; if the dog will stay outside, choose one that is resistant to water and other weather elements. A waterproof interior might also be a good idea.

For dogs who prefer their privacy, it is worth knowing that the wooden dog crates can be equipped with special features, such as blackout shades or screen covers. Also, given the fact that you have a large dog inside the crate, you might consider one that has double locks. These can prevent unwanted behaviors, such as escaping. Privacy is needed for anxious dogs, but not all of them might accept the covers. You need to use your intuition and determine what is your best for your four-legged friend. Some dogs, for instance, might prefer a crate with wooden slants, as they offer increased visibility. As with the other sizes, make sure that your dog fits comfortably inside the crate.

In conclusion, a wooden dog crate can help you keep your dog contained or even travel in comfort. In choosing a particular dog crate, it is for the best to take your dog's needs into consideration. Opt for features that make his/her life easier and comfortable, such as the removable cleaning tray, lockable wheels, or double doors. Choose a wooden dog crate made from quality wood, suitable for both your dog's size and breed. Before making any purchase, verify the size chart. Once the crate arrives at your home, do a routine checkup and make sure that the dog feels comfortable inside the kennel, using the suggestions above.