Heavy Duty Dog Crates
Metal dog crate
Differences between heavy duty dog crates
Heavy duty dog crate - sizes
What are metal heavy duty dog crates?
A heavy duty dog crate is designed to keep a dog contained, either during travels, when going to the vet, or just for safety purposes. Many dogs are genuine escape artists or have a preference for chewing different objects, so a good crate might turn out a lifesaver. Given the multitude of options available, it can be daunting when it comes to choosing a particular crate. In this article, you will find all the information you might need to know on choosing a heavy duty metal dog crate, the advantages offered, differences between various crates, and much more. Hopefully, after reading it, it will be easier to decide.

What are heavy duty metal dog crates? And what are the advantages they offer?

A heavy duty dog crate is actually a sturdy cage, usually made from steel, designed to contain a dog for various purposes. Nowadays, these crates are suitable for all types of breeds and dogs, having different features to distinguish them. The good news is that dogs can be trained to spend their time in a crate. Professional dog trainers can provide crate training, but you will have to research the various options available, depending on your dog.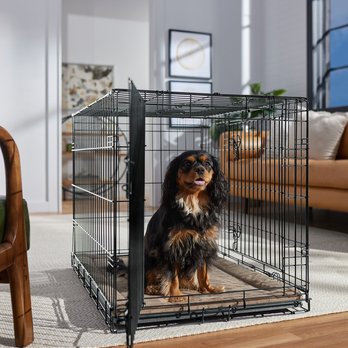 Many dog owners have doubts when it comes to crating their dog, but the truth is that there are numerous advantages to be derived. When a dog has received proper training on spending time inside a crate, he/she will learn to perceive it as a safe, even relaxing space. In busy homes, dogs often need a quiet place, somewhere private where they can retreat when overwhelmed. Moreover, sometimes it is necessary to crate your furry friend for safety purposes. Escape artists, as previously mentioned, can benefit from crating, especially if there is a lot of "traffic" within your home.

By accustoming your dog to a crate, you will also increase his/her mobility. For instance, a heavy duty metal dog crate can be a great thing to have when you need to take your dog to the vet. Also, if you are traveling, you might be able to take your dog along, as many hotels allow crated pets nowadays. Many owners might prefer using a crate with a new dog or puppy, as they cannot know for sure how he/she will act in a new place, especially if left alone. So, you see, these crates can be safe for both the dog and the property in question.

Behavior-related problems can be best contained with heavy duty metal dog crates. Imagine a dog who likes to chew through everything, including wires. Other dogs are diggers, causing havoc all around them. If you want to make sure that your dog is safe, a crate might be the safe alternative, particularly when you are not at home to watch him/her. It is important to remember that such crates are suitable not only for large or strong dogs, but also for those smaller in size. If behavior is an issue, crating might be the best solution to consider.

And what about dogs who do not like strangers? Or those who have a tendency towards aggressiveness? With either of these two situations, it is essential for the dog to stay confined and keep everyone safe. A sturdy crate, with a door that stays in its place, is exactly what you might need. Sturdiness remains one of the biggest advantages offered; a heavy duty metal crate will not suffer the same damage a crate from plastic or wire would. Imagine traveling or moving the crate around, you need something that is sturdy.
Different types of metal dog crates
How to choose the right heavy duty dog crate for your pet? And what are some of the features worth considering? Most heavy duty metal dog crates are equipped with a removable tray at the bottom, which makes life easier for pet owners. The removable tray is simple to clean, especially with puppies who are prone to accidents. If your dog is a chewer, you might want to pay attention to the material from which the tray is made. Remember, plastic trays can be easily chewed and destroyed. Some dog crates have trays made out of metal, which are much more sturdier.

It might also interest you to know that dog crates can be equipped with four lockable wheels. This is an interesting feature, allowing pet owners to move the crate around without difficulties. The food brakes are included with all the models that have wheels of this kind. Newer models have removable wheels, which the owners can add whenever they desire. Some dogs might figure out how to move the crate themselves, so the wheels can be removed to reduce the associated risks and ensure the respective cage remains stable.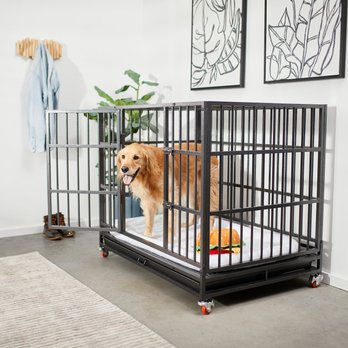 Some models have a double-door design, offering both front and side entry. The benefits of using a crate with double doors are many, including the simple access, the fact that it is easier to clean, and a lower risk of anxiety. Dog crates can be easily fitted into various areas within the house, not to mention they facilitate crate training. However, if your furry friend is a rather talented escape artist, you might want to stick with a single-door crate (fewer opportunities for trouble).

Talking about dogs who like to escape, it might be a good idea to choose a heavy duty metal dog crate that has two latches or more. The more latches a crate has, the harder it will be for your dog to escape. Certain models can be unfolded, so you can store them more easily. The most resistant crates are the ones with the bars made from steel tubing, but one must remember that heavy-duty crates come with a lot of weight. In most cases, it takes two people to assemble and carry the respective crate. The metal frame is painted with non-toxic paint, so the dog's safety is not threatened and there are no chances of it rusting.

To reduce the chances of escaping, certain crates have the bars arranged in a unique Y-pattern. This guarantees a pleasant aesthetic, but also a lower chance of biting the respective bars. With such patterns, dogs have a reduced chance of getting their nose through the bars, thus being unable to gain access to the latches keeping the crate locked. With larger crates, which can accommodate two dogs, owners might consider another key features, the divider separator. This can also be used for a growing puppy, so that owners can adjust the crate size as their furry friend grows into an adult.

Many heavy duty metal dog crates are designed for large dogs. As you might see for yourself, this model comes indeed with a double door, but this is found at the top of the crate. You can lift it up to reach the dog and maybe give him/her a treat. In designing dog crates, manufacturers have really thought about everything; for instance, the latches cannot be accessed from the interior of the crate and there are no sharp edges to increase the risk of injury. Some crates are especially designed for dogs with separation anxiety, having a small front door that owners can use to offer treats or comfort.


Heavy duty dog crates for small and large dogs
Heavy duty metal dog crates come in different sizes, such as small, medium, and large. Naturally, in choosing a particular crate, you might want to consider not only the size of your dog but also the breed. In the paragraphs below, you will find some recommendations on choosing the right crate for your dog, with consideration to these two aspects. As mentioned above, you might also want to consider a divider panel, which is used for growing puppies, allowing you to easily adjust the space in the crate.

Let's talk about small dogs and which crates might be best suited for them. Just because you have a small-sized dog, this doesn't mean he/she is not capable of destructive behaviors. Many dogs of this size like to chew on different household objects, electrical cabling included. This is the reason why you will need a durable cage, preferably made of steel or aluminum. It is recommended to choose a crate that allows your pet to turn around and stretch his/her legs. Small-sized crates are usually recommended for breeds such as Jack Russell Terrier, Toy Poodle, Mini Doodle, or Chihuahua.

How can you determine whether a crate is too small for your dog? Just observe your furry friend for a little bit. If the dog cannot stand upright or the head touches the top part of the crate, then it might be too small. The same goes if the dog cannot stretch his/her legs out, or when he/she is unable to turn around in the crate. Even if your dog is small, he/she will need plenty of space. If the crate is too small, the lack of space can lead to chronic stress and even physical issues, such as muscle cramps.

What about a medium-sized dog? Naturally, such a dog might need a medium-sized crate, one chosen with both safety and quality in mind. In choosing a heavy duty metal dog crate, you should pay attention to the above-mentioned signs. Think about the specific needs of your dog, as these can pinpoint towards the right options. What are some of the things to think about? Well, do you have a puppy who needs training or are you interested in an upgrade for your older dog? Does your dog struggle with inadequate behavior or you are planning on traveling together in the future? Answering such questions might get you closer to the best possible crate.

Medium-sized crates are best suited for breeds such as English Springer Spaniel, Border Collie, Australian Shepherd, etc. Be sure to check whether your dog will fit comfortably within the respective crate. It is also important to determine if the crate in question can support the dog's weight, so as to ensure he/she will be safe at all times. For growing puppies, remember the divider, as this can be a useful thing to have over time. Heavy duty crates remain the best choices for escape artists and chewers, but you can teach your furry friend to improve his/her behavior through crate training.

Finding a good crate for a large-sized dog can be a genuine challenge, as it needs to serve its purpose but also to offer the right amount of comfort. Before choosing a particular crate, it might be a good idea to take your dog's measurements and weight. Once you have all this information, you can be on the lookout for a crate that allows your dog to stand up without trouble. It should also be wide enough for him/her to turn around and long enough for him/her to stretch out the legs. Remember that a large dog might be able to chew through anything, so the bars made from reinforced steel are recommended.

Large-sized heavy duty metal dog crates are recommended for large breeds, such as Pittie, Great Dane, Labrador Retriever, Doberman Pinscher, Rottweiler, etc. Most crates of this size come with a dual-locked front door, perfect for escape artists. The dual-door design is also preferred among dog owners, as they have more options when it comes to placement around the home. Many homeowners are satisfied with their heavy-duty dog crates, noticing a genuine difference whereas the behavior of their dogs is concerned.

Heavy duty metal dog crates can keep your dog contained and ensure his/her safe transportation. As you have seen, there are many advantages that come with using such crates, especially when it comes to escape artists and chewers. Notable features in these crates include: sturdy metal bars made from steel, dual-door design, multiple latches, two doors for easier placement, removable tray, lockable wheels. In choosing a particular crate, dogs owners should consider not only the size, but also the breed of their furry friend. Last, but not least, they should select a divider panel to adjust the crate to their puppy as he/she grows into an adult.