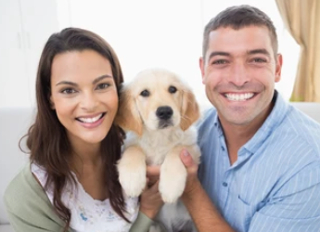 5 tips for new pet owners
Owning a pet can be a wonderful, rewarding experience. And when you're out shopping for your new furry friend, it's important to remember that your pet is an individual, just like you are - and just as unique. Some pets are a little more energetic than others, some are picky eaters, and some require daily walks, while others prefer the couch and a comfy blanket. But no matter your pet's personality, there are a few things you can do to prepare your home, lifestyle, and finances for pet ownership.

Owning a new pet is a massive step for many people. And it can be a stressful transition, especially if you're a first-time dog owner. But with a bit of planning and preparation, the experience can be gratifying.

Tips for new pet owners.
Tip 1: Purchase Pet Supplies
New pet owners are often overwhelmed at the prospect of buying all the supplies they need. Before shopping for supplies for your new dog or cat, make sure you're aware of the available supplies and which ones you'll need. Some supplies are one-time purchases, but others, such as food, collars, leashes, toys, pet beds, and bowls, will be needed frequently. Be sure you have a plan for housing your new pet, including an appropriate cage or kennel, toys, food and water bowls, and bedding. Have some pet toys on hand for playtime, and stock up on puppy/kitten food, puppy/kitten treats, and other supplies.

There are many options, from food to toys, collars to leashes, and beds to carriers. But there are also a number of supplies that new pet parents may not think about, such as pet waste bags, litter, and cleaning supplies.
Tip 2: Prepare Your Home for a New Dog
A new puppy can be one of the best things in your life, and with the right preparation, your new dog will be a welcome addition to your household for years to come. But before you welcome your new canine friend into your home, follow these steps to prepare your home to ensure they are happy and healthy.

Set up a designated dog zone - Now that you have your new puppy, you need to provide them with a safe, comfortable place they can enjoy. The crate could be the place they rest and sleep, or it can also be used as a safe, convenient place to carry them around.

Establish house rules - Setting up house rules, yard rules, and behavior rules before you bring the dog home will help make the transition easier and safer.

Puppy-proof your house - Having your puppy underfoot is excellent fun. After several weeks of living in close quarters, however, you may need to puppy-proof your home. Like all new family members, puppies bring a whole new set of responsibilities, including making your home a safe place for your canine companion.

Make sure any current pets' shots are up to date - First, make sure any current pets' shots are up to date. Pets have regular shots as we do, and you don't want to bring a new dog into your home if it isn't healthy.
Tip 3: Give Your Dog Lots of Time to Acclimate
If you're getting a new dog, the dog should acclimate. Adapting to new dogs takes time, so it's important to allow them to adjust to their new home slowly. Large dogs may benefit from more time.

Dogs are people, too, and just like us, they have a strong emotional attachment to their home-and you. Prepare your home for your new dog by making sure it's secure and accessible. Remove or hide any toxic plants, remove or cover breakables, and lock up any prescription medications. Install childproof latches to keep your dog from getting into the medicine cabinet. Make sure there's plenty of food and water and that there's easy access to the inside from the backyard.

It's normal for a dog to be apprehensive when it first arrives home. It's normal to be nervous, protective, and cautious, especially of your new family member. So give your dog plenty of time to reflect on the adjustments it's facing. Try to spend at least the first week with the dog in separate rooms, with your dog feeding from its food bowl and being fed separately from you.
Tip 4: Start Training Your Dog
If you are not sure which dog breed is best for you, training your new puppy is the perfect time to evaluate your wants and needs. You can train your new pup with basic commands, such as sit, stay, come, and heel. For common behavior problems, training can help address behavior issues as they arise. In this chapter, we'll talk you through getting started with training your puppy, preparing your home for a new dog, and introducing your new friend to your family.

Dogs need time to adjust to new environments and people. That can mean playing in a fenced-in yard for the first few weeks or even up to several months until the dog is comfortable enough to explore new areas safely. To help your dog adjust to their new home, you can prepare certain aspects before the dog comes home, as well as train your dog to stay in a specific area of the house.
Tip 5: Visit the Vet to Check on Your Dog's Health
When you bring home your new puppy, it's an exciting time. Your dog's new surroundings give him the chance to explore, socialize, and have fun. But, no matter how excited you are, it's important to remember that dogs can begin experiencing health complications just as quickly as humans do. That's why it's so important to visit your vet as soon as possible to ensure your new pup is on a healthy track.

Pet insurance can be a great way to pay for vet bills when your pet gets sick, but it doesn't cover everything. Many pet insurance plans will cover prescription diets, vitamins, and their raw equivalents. But does pet insurance cover prescription food? Most pet insurance companies offer coverage for prescription food when prescribed by a veterinarian. However, some pet insurance systems don't cover prescription food. When shopping for pet health insurance, check the details or ask your insurance provider for their specific coverage.

Dog products for new dog owners

Dog crates

How to choose a crate for my new dog?

Heavy duty dog crate

Wooden dog crate

Portable dog crate

Dog beds

Elevated dog bed

Calming dog bed

Indestructible dog bed

Orthopedic dog bed

Outdoor dog bed

Washable dog bed

Waterproof dog bed

Dog potty training supplies

Dog litter box

Klean paws indoor potty system

Male dog diapers

Female dog diapers

Dog poop bags

Dog food

Dog food explained