Toy Poodle vs Miniature Poodle
Poodles come in three sizes: Standard Poodle, Miniature Poodle and Toy Poodle. Miniature and Toy Poodles are smaller than Standard Poodle in size with Toy Poodle being the smallest. Poodle was originally developed as a water retriever and later on became a popular companion dog. Miniature Poodle and Toy Poodle have the intelligence and energy level of the Standard Poodle despite being well known as lapdogs. Toy and Mini Poodles are very active and despite the small size, the smaller Poodle types have a lot of energy to spend during the day. Having a fenced yard where the Poodle can enjoy exploring and running around is a big plus. Mini and Toy Poodles who live in an apartment need to be walked several times daily to channel the dog's abundant energy in a positive direction. Active Poodles live a longer and healthier life. Miniature Poodles and Toy Poodles are appropriate for owners who don't mind the extensive grooming that this breed requires. Ideal owners realize that Poodles require plenty of mental and physical stimulation during the day and need to be around their family most of the time.

Miniature Poodles, just like Toy Poodles are adaptable and can be happy living in city or country. Toy Poodles are great for living in an apartment as long as they get several walks during the day. Poodles tend to enjoy barking and training the intelligent Poodle to stop barking on command is a good idea.

Despite many similarities that Mini Poodles share with Toy Poodles, there are some considerable differences between the two Poodle types.

Toy Poodle Miniature Poodle cross
Toy Poodle and Miniature Poodle mix dogs resemble either of the two Poodle varieties. Toy and Mini Poodle mix can have colors similar to those of the parents. Poodles in general have a variety of different colors.

Image of Toy and Miniature Poodle mix.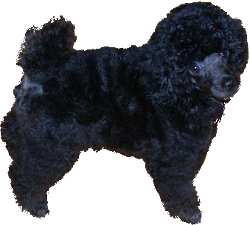 Miniature Poodle vs Toy Poodle: Grooming
Toy Poodles and Miniature Poodles feature a beautiful fluffy coat that grows continuously. To maintain Mini Poodle's or Toy Poodle's coat in best condition the owner will need to brush the coat daily and trim the dog's coat at least once every 6 weeks. Toy and Mini Poodles need their nails trimmed once a month. Daily grooming for both of these breeds includes daily teeth brushing. Eye stains should also be removed because Mini Poodles and Toy Poodles often have dark brown or reddish stains around their eye area that need to be gently removed.

Poodle grooming

Miniature Poodle vs Toy Poodle: Lifespan
Mini Poodles and Toy Poodles have a similar life expectancy and on average live from 12 to 14 years. Poodle's lifespan depends on many factors, including the dog's health, care, diet, lifestyle and genetics.


Miniature Poodle vs Toy Poodle: Size
Toy Poodles are the smallest Poodle variety, while Miniature Poodles are larger than Toy Poodle, and smaller than Standard Poodles.

Miniature Poodle male weight: 26 to 30 lb (12 to 14 kg)
Toy Poodle male weight: 4 to 8 lb (1.8 to 3.6 kg)

Miniature Poodle male height: 11 to 15 in (28 to 38 cm)
Toy Poodle male height: under 10 in (under 25 cm)

Miniature Poodle versus Toy Poodle: Shedding
Both, Miniature Poodles and Toy Poodles have a curly and thick coat that does not molt. A Poodle's coat is constantly growing. Mini Poodles and Toy poodles have a similar coat texture and require maximum grooming that includes trimming every six to eight weeks and daily brushing with slicker brush and wide-toothed comb to prevent mats and tangles from forming. Neglected Poodle's coat will cause various skin conditions and discomfort for the dog.


Mini Poodle vs Toy Poodle: Price
Mini Poodle prices start at around $600 and up, depending on many factors that include family history, whether the dog is registered and so on. Toy Poodles prices also start at around $600 and up. Poodles bred by well known breeders with good family history can cost thousands of dollars per puppy.

Miniature Poodle vs Toy Poodle: Temperament
Although Miniature Poodles and Toy Poodles may have different sizes, their temperaments tend to be traditional to all Poodles. Toy and Miniature Poodles are intelligent and well tempered, obedient and eager to learn, fun, nonaggressive and adaptable. Keep in mind that Puddle puppies produced at puppy mills are often physically and temperamentally unsound. Always opt for a well-bred Poodle as responsible breeders care about producing puppies that are healthier and have temperaments consistent with the Poodle breed.

Miniature Poodle vs Toy Poodle: Country of breed origin
Poodles originated in Germany and developed into a distinct breed in France.

Good with kids: Miniature Poodles vs Toy Poodles
Miniature Poodles are more appropriate for kids as they are less fragile and more sturdy than Toy Poodles in size. Toy Poodles are more comfortable as the companion of adults. Either Toy Poodle or Mini Poodle are easily stressed out in a rowdy and noisy household and that is the reason why Poodles are happier in families with older, sensible kids.

Miniature Poodles vs Toy Poodles: Companion dogs
Poodles make intelligent and loving companion dogs for families with older kids or for adults. A potential Poodle owner needs to be prepared for extensive grooming requirements of this breed. Monthly visits to a groomer can be expensive and some Poodle owners choose to do the grooming at home. Grooming a Poodle at home can be time consuming as the dog needs to be brushed daily, his teeth need to be brushed every days and the nails should be trimmed about once every six weeks. Poodles thrive in families where owners enjoy the daily grooming ritual and have the time to dedicate to enjoying either a Mini or Toy Poodle.
Good with other dogs: Miniature Poodles vs Toy Poodles
Properly socialized Miniature and Toy Poodles can get along fine with other dogs. Toy Poodles are more fragile and can be vulnerable around large and more aggressive dogs. Owner supervision is required when a Poodle is interacting with unfamiliar pets or dogs. Level of socialization depends of each individual dog (how much time the owner spent getting the puppy comfortable around other dogs) determines how good the dog is around other dogs.
Miniature Poodle vs Toy Poodle: Intelligence
Poodles are among the most intelligent dog breeds. Miniature Poodles are Toy Poodles are very smart and can quickly learn new tricks with positive training techniques. Provide a Miniature or Toy Poodle with interactive dog toys for small breeds from a young age to stimulate the dog's mind. Poodles enjoy learning new tricks and are eager to please the owner. Mental stimulation is very important for this highly intelligent breed.
Toy Poodles vs Miniature Poodles: Trainability
Mini Poodles and Toy Poodles are among the easiest dogs to train. Both are highly intelligent and enjoy learning new things. With positive training approach Poodles of any size are capable of mastering new commands with ease. Poodles enjoy to please the owner and there are infinite tricks that these smart dogs can learn.
Toy Poodles versus Miniature Poodles: Barking
Poodles or all sizes, including Miniature Poodle and Toy Poodle rather enjoy the sound of their voice. Barking can be an issue for either a Toy Poodle or Miniature Poodle. Poodles living in an apartment can benefit from learning the "Quiet!" command that helps to stop the dog from barking whenever necessary. Dog trainers claim that training the dog to bark on command first and then training the dog to be "Quiet!" makes the command easier to understand for the dogs. Use positive reinforcement techniques along with appropriate motivation to help your Poodle learn to stop barking on command.
Toy Poodle and Miniature Poodle comparison: Exercise needs
Miniature Poodles as well as Toy Poodles enjoy a moderate physical activity every day. Miniature Poodles need at least half an hour of walking time daily in addition to some playtime. Toy Poodles just like Miniature Poodles enjoy walking and active playtime. Walking helps the dog to stay healthy mentally and physically.
Health issues: Mini Poodle vs Toy Poodle:
Toy Poodles just like Miniature Poodles are susceptible to kneecap dislocation, epilepsy and progressive retinal atrophy. Other eye problems are also reported by Poodle owners. Neglected coat results in skin problems.
Miniature Poodle vs Toy Poodle comparison: Dog behavior issues
Miniature Poodles and Toy Poodles are companion breeds that need to be around the owner most of the time. A neglected Poodle that is often left alone will develop psychological and behavior problems. Toy and Mini Poodles are intelligent dogs that require plenty of mental stimulation throughout the day. When bored, behavior problems such as recreational barking, furniture chewing, scratching or ripping things and so on.

If you do need to step out and leave either the Toy Poodle or Miniature Poodle alone for an hour or so, consider providing the dog with a safe, chewable toy that the dog can play with while you are not around. Be sure to check the toy for any small parts that the dog can accidentally bite off and swallow. Toy Poodles, just like Miniature Poodles enjoy playing with squeaky toys, rattles and chewable dog toys. Fortunately, there are many different dog toys available on today's market and each individual dog may have his or her toy preferences. Include a variety of different toys and let your Toy or Mini Poodle decide which toys are most fun.

Some owners choose to crate train their Poodle to keep the pet safe and out of trouble while the owner is not around to supervise the dog.

Best dog crates for small dogs

Toy Poodle and Miniature Poodle compared: Popularity
Toy Poodle and Miniature Poodle take 7th place out of 194 in popularity ranking in the United States, according to AKC.
Toy vs Miniature Poodle: Loyalty to the owner
Both of these companion breeds are very loyal to their owners. Poodles are happiest when spending time with their families.
Toy Poodle and Miniature Poodle videos:

Poodle breed video

Miniature Poodle showing tricks - video