Maltipoo (Maltese Poodle mix)
What is a Maltipoo? Maltipoo is a hybrid of a Maltese and a Miniature Poodle and is a friendly, adorable "teddy bear" of a companion dog. Since Crossbred dogs inherit varying amounts of social and physical traits from their parent breeds, the typical Maltipoo has a small size and features medium-length wavy coat, and an active, social and feisty personality.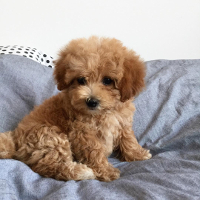 Maltese and Poodle cross dogs need lots of attention, training and exercise along with frequent grooming.

How to groom a Maltipoo dog?

Since Maltese Poodle cross dogs are extremely sensitive, Maltipoos will absolutely need loads of TLC! Generally, Maltipoos are best suited to be companion dogs for those willing to give them plenty of attention and as much time. Maltipoos are very social and warm up to new people quite fast. Poodle and Maltese mix dogs are great to have around in the presence of visitors.

Being generally calm and mild-mannered, the Maltipoo will be your great friend in the family if you wish to spend more time with him. He has a tendency of quickly attaching and loving his people. They are very likely to suffer from, separation anxiety when left alone for extended periods of time due to this nature of being clingy. They are likely to get depressed if this happens, which can make them cause damage to themselves by pulling off their coats and even chewing on their skin. Since they need a lot of company when one of the members of a family gives him total attention. They are therefore ideal for people constantly working at home.

Your family members will enjoy the spunk and energetic nature of the Maltipoo. He can play tags with children who may be around, or even happily chase after a ball. Maltipoos also enjoy curling up of family members' laps to enjoy the much deserved comfortable nap and attention. Maltipoos also don't experience a hard time getting along with other parts. Maltipoos are usually light-colored but can appear in a mixture of colors including cream, silver, white, apricot, brown and blue.

Unfortunately, the Maltipoo designer dog breed is yet to get recognition from the American Kennel Club, which makes registering crossbreed puppy litters for official Pedigree Papers a difficult task. The Maltipoo designer crossbreed dogs boast having an impressive pedigree chart. You just need to look at the Miniature poodle and Maltese, which are well recognized by the American Kennel Club and have been used by so many people for centuries as friendly companions and pets. When these are combined, the result is an ultimately lovable puppy!

The crossbreeding to create a Maltipoo was done with the ultimate goal to produce a non-shedding, hypoallergenic and highly trainable dog. There is actually multigenerational kind of breeding that has produced temperaments and looks that are more standardized in this designer hybrid dog. But for development of predictable pups in Maltipoos hybrid, it takes some generations. At the moment, it's not possible to predict which traits from either parent will be favored. Thankfully, almost all qualities and traits of Maltipoo's parents tend to be similar and desirable. Therefore, just as with other designer crossbreed dogs, these will not be particularly noticeable in Maltipoos.

Maltipoo full grown size
How big do Maltipoo dogs grow? Being one of the most adorable "designer breed" dogs around, Maltipoo full grown dog weighs from 5 to 12 pounds, and the dog's size depends on the type of Maltese or Poodle that has been bred into this designer dog. Maltese dogs are among the smallest breeds just like Toy Poodles and a Maltipoo offspring from crossing of these breeds will result in a smaller full grown Maltipoo than offspring that comes from Maltese and Miniature Poodle breeds.

What is the difference between a Maltipoo dog and a Teacup or Toy Maltipoo? Toy or Teacup Maltipoo dogs are Maltipoos that weigh less than 5 pounds. An adult Maltipoo size can vary and in some cases puppies from the same litter may have a significant difference in size when full grown.

Mixed crossbreed dogs tend to vary in traits and looks. The Maltipoo, on the other hand, have a tendency of being consistent in regards to the behavior and appearance of the resulting puppies. This results from a Miniature or Toy Poodle being bred to a tiny Maltese that is similar in looks and size. This leaves room for no surprise. From puppyhood to adulthood, Maltipoos' size ranges from 5 to 12 pounds while they can stand to a height of 8 to 14 inches. Maltipoo males are usually larger in size than their female counterparts.




Maltipoo shedding
Many people wonder whether Maltipoo dogs produce a lot of shedding. Malti-poo sheds very little, and has a curly, fluffy coat, making Maltese Poodle mix great for those in need of a dog that will not add much to their household chores.

Maltipoo energy level
These hybrid dogs like being taken out and about and enjoy short daily walks. Maltipoos are alert and energetic, but most will be happy with a couple of 30-minutes walks each day. Maltese Poodle mix dogs do not demand long walks. A short brisk walk will be more than enough exercise in the morning and evening to keep the pooch happy. Their athletic shape and intelligence make Poodle and Maltese mix dogs good at agility competitions in sports. Maltipoo dogs love to play and will chase a ball across the floor keeping themselves entertained. Maltipoos make great playmates for caring and well-behaved children who are old enough to understand that dogs aren't toys and need to be treated with respect. Maltipoo dogs are ideal for those living in small apartments in the city but are also very happy to live in the suburbs with their own yards.

Maltipoo lifespan
How long do Maltipoo dogs live? The average lifespan of Maltipoo is from 12 to 15 years. Small breeds or crossbreeds such as Matlipoo typically have a longer life expectancy and Maltipoo is not an exception. With proper care and healthy lifestyle Maltipoo dogs can live healthy and long lives bringing a lot of joy and positive emotions to their owners. Based on the exercise levels, diet offered to your dog, as well as the grooming techniques used, your Maltipoo can live from 10 to 13 years. Just ensure you visit your vet regularly to ensure your dog lives a fulfilled and happy life.

Maltipoo personality
Being a fun-loving, intelligent and affectionate dog, the Maltipoo generally gets perfectly well along with almost everyone it meets. Devoted and gentle, these cute dogs tend to spend most of their time perching on the laps of their owners as they walk beside them. Just like they like relishing long cuddles, the Maltipoos are feisty and active, and they do enjoy good sessions of playing. Although Maltese Poodle mix dogs are always very alert and are perfect alarm dogs, Maltipoo dogs will not provide you with protection of any kind whatsoever.

Just like other dog breeds, Maltipoos also need to be socialized early enough. They should be exposed to different experiences, sounds, sights, as well as people from all walks of life when the animals are still young. This will ensure that your Maltipoo grows and matures as a perfectly rounded dog.

Maltipoo Puppies
Although Maltipoo puppies are so cute, they also tend to be so fragile. Supervision is highly recommended when these little dogs are playing with young children, as the dogs are vulnerable to injury. The ideal time to teach your dog how to behave is when they are still puppies. When this is done on time and as required, socialization and training will guarantee your Maltipoo grows to be a friendly and lovely dog.

The popularity of the Maltese and Poodle mix makes the Maltipoo designer breed easily recognizable out there. From the sweetly loving personalities of the Maltipoo pups to their easy trainability and adorable looks, these pups make a great companion. Maltipoos do not have any issue fitting into any home of singles, seniors, or even families with young children to become the best 4-legged friends. Everyone will absolutely want to fall for these gorgeous and wonderful pups!

Maltipoo Origin
There is a big mystery that usually surrounds the history of hybrid designer breeds, as there's usually scarce information that is available about these breeds. The documentation about their origin is limited. All that is thought of about designer breeds is that a majority of designer dog breeds were considered to bet more mutts by snobs of pure breed dogs for quite long that people never even bothered to chronicle the history of these loved designer breeds. In most instances, the very first litters that were produced happened by accident.

In regards to the origin of the Maltipoo, it isn't so different from other hybrid designer dogs. Having been created around 20 to 30 years ago in the United States, the Maltese and Poodle mix was produced to create small, affectionate companion dogs with the intended roles of being wonderful pets ideal for any family lifestyles. Maltipoo breeders absolutely hit their goal, and there's no doubt that Maltipoos designer crossbreed dogs are great companions for almost every family. With the parent breeds of the Maltipoo being popular breeds among most Americans, the offspring surely inherited the best from both breeds. Maltipoos are very lovable little animals that will definitely make you comply with them after a few minutes of being in their presence.
Maltipoo temperament
Maltipoos are known for their affectionate, friendly, feisty, lively, and very sensitive temperament. At the same time, Maltipoo dogs are hardy and strong-willed. These crossbreed dogs have an extremely social personalities, and can get along with anything and anyone! Maltese Poodle mix dogs form deep bonds with those who own them, and if left alone, they may suffer from separation anxiety. The scrappy Maltipoo personality can at times make these dogs a little stubborn, but the desire for what they want is usually overshadowed by their pleasing willingness. Maltipoos socialize perfectly with other pets, kids, and strangers alike.

With a high level of intelligence, they will learn commands promptly, which makes training a less stressful task. With the employment of reward-based, positive training methods, Maltese Poodle mix dogs will definitely pick up on things quickly.

A downside to these characteristics of Maltipoos is that they bark frequently but "yappiness" on the other hand makes them good watchdogs. If Poodle Maltese mix dogs happen to detect an unknown sound, smell, or sight, sound, or smell, they're likely to sound a vocal alarm.
Maltipoo potty training
How to potty train a Maltipoo dog? Once you get your Maltipoo puppy home, one of the most crucial lessons to conduct is potty training. With the high level of intelligence that these puppies have, they will not take as much time as other dog breeds.

Maltipoo potty training steps
First, identify an area where your dog will always be going potty. After every one to two hours, ensure you are taking your puppy to this same area.

After your puppy has eaten, watch out for any signs that show your puppy needs to relieve itself especially after feeding, playing and sleeping. If you see your Maltipoo pup sniffing the floor, or looking for an area it had messed previously, take the pup out immediately to the potty area. The Maltipoo could also bark or go round in circles.

Once the puppy is done relieving himself, ensure to reward it with praise along with a few treats such as pieces of meat to make the dog know it has behaved well. Once the dog has learned this, you can accompany the praise with a command like "Good Pottying!"

In case there are accidents during the training period, avoid punishing your puppy or even rubbing its nose on the messed area, as the Maltipoo may start fearing you and eventually lose trust, which will heavily hamper the training process.

When the positive reinforcement methods are used, your pup will eventually learn how to go out to relieve himself at the correct spot by just uttering the command described above.

The crate training method is the best for training a Maltipoo. This consists of a crate (plastic pet taxi or small wire crate) that confines your Maltipoo dog when you are not watching her for short time periods. After every 45 minutes to one hour, the puppy needs to be taken out to potty. The Maltipoo puppy needs to be taken to the same spot through the same door each time. If you wish to paper, potty pad, or litter train your puppy, take him to the paper, potty pad, or litter each hour. By instinct, Maltipoo puppies will always wish to keep their sleeping and eating area clean and will hold their potty as long as they can. By using the crate, the puppies' instinct will work, and they will potty where and when you want them to.

Training a Maltese and Poodle mix dog is quite easy, provided the trainer is caring and calm. Malti-poos are highly intelligent, but they are also extremely sensitive. This designer Maltipoo dog only responds to reinforcement training methods that are positive. Aggressive tactics, harsh words, or yelling will force the dog to cower and shut down, which will significantly harm any possibility of training the dog. Moreover, these aversive methods are likely to damage your relationship with the pet, since it's more of abuse than training and should be avoided. Instead, to get your pooch to behave, rely on gentle "bribes". Exciting praises and yummy treats will thrill your Maltipoo to begin training sessions and increase his interest in working. With just a gentle touch, you'll be amazed how these pups will get quickly trained.

Aside from being fast learners when it comes to simple commands and housebreaking, Maltipoos can excel in agility and obedience settings. They make great therapy dogs and bring joy wherever they go.
Maltipoo care
Maltipoo Diet

Which dog food is best for Maltipoo? Crammed into small compact packages, Maltipoos are hybrid dogs with high energy bursts. As such, you need to offer them a special food diet with a formulation intended to meet their basic recommended nutritional needs. Always endeavor to settle on diets that are rooted in dry, high-quality dog food. The most convenient way of feeding your pet with a well-balanced diet is using Kibble, which is perfectly packed and includes all essential nutrients for dogs.

The amount of kibble you feed to your Maltipoo depends on its age, size, metabolism, and build as well as activity level. Every individual dog, just like people, will require different amounts of food. It's obvious that a dog that is more active will definitely require more food than a couch-potato dog. In addition to this, ensure quality dog food for your Maltipoo. This means you will nourish your dog more, and you will need to shake your dog's bowl less.

The recommended amount of high-quality dog food for a Maltipoo may range from 2/3 to 1.5 cups divided into two meals on a daily basis. By having this kind constant schedule for feeding your dog, you are working towards keeping your Maltipoo in perfect shape. If you make a mistake of leaving food out for your Maltipoo at all times, your dog is more likely to become overweight.

Being a small dog breed that is susceptible to oral health problems, offering a constant quality diet postpones or even works to prevent tooth loss.

Maltipoo health issues
Being a crossbreed, the Maltipoo tends to be susceptible to health issues that affect the Poodle and the Maltese parents. Some of the common Maltipoo problems include:

Legg-Calve-Perthes Disease
Patellar Luxation
Portosystemic Shunt
Epilepsy
White Shaker Syndrome
Progressive Retinal Atrophy

If a Maltipoo puppy happens to have a white coat, it's more likely to experience skin health problems. Other issues you need to watch out for in this designer breed include heightened skin sensitivity as well as skin and food allergies. It is therefore recommended that you make regular visits to your veterinarian for checkups so that you can detect these issues early on for timely treatment.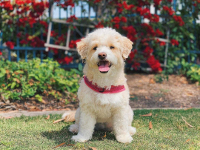 Maltipoo pros and cons
Maltese breed pros and cons
Poodle breed pros and cons
Maltese Mix breeds
Maltese Pomeranian Mix
Maltese Shih Tzu dog
Morkie Maltese Yorkie mix
Poodle and Golden Retriever mix
Poodle Cocker Spaniel mix
Poodle Shih Tzu mix
Maltese Chihuahua cross dog
Lab Poodle mix dog
Peke-a-poo
Pomapoo Dogs
Airedale Terrier Poodle mix
Aussie-Poo
Berne-Doodle
Border Collie Poodle hybrid dog
Poodle Boxer Hybrid
Cavalier King Charles Spaniel Poodle hybrid
Yorkiepoos
Poodle Beagle Cross
Schnoodle information
Corgi Doodle Info
Dachshund Doodle information
Compare dog breeds
Difference between Maltese and Poodle
Differene between Maltipoo and Maltese
Compare Cavapoo and Maltipoo