Maltese Mixes
What is a Maltese Mix? Crossing a Maltese dog with any other dog breed results in Maltese mix offspring. Some of the most popular Maltese mixes include Maltipoo, otherwise known as Maltese Poodle mix dogs. Other popular Maltese mixes are Malshi or Maltese mixed with Shih Tzu. Maltipom is another popular Maltese cross breed that is also known as Maltese Pomeranian Mix. Morkie is another Maltese mix breed that is developed by crossing a Maltese with Yorkshire Terrier.

What do all Maltese mix dogs have in common? Since Maltese dogs are small in size and weigh up to 8 pounds (4 kg), all Maltese mix breeds are also small. The size of a particular Maltese cross depends not only on the Maltese parent's genetics, but also on the genetic traits of the other dog breed that the Maltese dog is crossed with. For example, crossing a Maltese dog with a Toy Poodle will result in smaller Maltipoo dogs than a cross between a Maltese and a Miniature Poodle. The reason is that Toy Poodles are much smaller in size than Mini Poodles and that difference in size can determine how small the resulting Maltese mix dog will be when full grown. Small Maltese Mixes are popular with people who live in apartments where space may only accommodate a conveniently sized dog. Older adults and retirees also find Maltese Mix dogs irresistible because they make affectionate and fun companion pets that enjoy nothing more than a company of their beloved owner. Many older people also have plenty of time to dedicate to caring for their adorable and attention-loving small dog.

Different Maltese crossbreeds may have different temperaments. For example, crossing a Maltese dog with a terrier such as Yorkshire Terrier will produce Maltese mix puppies that will be more energetic and alert in comparison to Maltese and Shih Tzu puppies that tend to be more relaxed and easygoing. When Maltese dog is crossed with another dog breed, the Maltese mix puppies may inherit traits from both breeds in various combinations. That is why it may be difficult to predict the exact temperament and even size of a Maltese mix puppy until it is full-grown.

Many Maltese mixes make great companion dogs for people who don't mind the extensive grooming needs that most Maltese crossbreeds may require. While crossing a Maltese with another dog of a different breed may produce puppies with very different coat texture and appearance, most Maltese cross dogs require frequent brushing to keep the coat neat and free from mats and tangles. Occasional trimming may also be needed especially if the Maltese mix inherits the long coat that keeps on growing.

How active are Maltese mix dogs? The level of exercise that a Maltese Mix will require depends on what other breed the Maltese was crossed with. If the other parent of a Maltese mix is a more active dog breed such as Jack Russell Terrier, for example, then expect your Maltese cross dog to be more active than a Maltese Mix where a Maltese is crossed with a Shih Tzu dog. Finding the best Maltese mix that will fit your lifestyle will require a research of not only the Maltese dog breed, but also of the other breed that is crossed with a Maltese. Learning about both Maltese mix dog's parents will help you to understand the potential temperament traits of the dog that you are considering.

What are some pros and cons of Maltese mix dogs? Maltese mix dogs tend to be more susceptible to separation anxiety, which is a con. Maltese are essentially companion dogs and they are very attached to their owners. Many Malteses really dislike being alone and are not suitable for people who are at work most of the day and have the dog waiting all alone for the owners to come back in the evening. Maltese mixes often inherit the strong desire to always be with the owners and may easily develop separation anxiety when left alone frequently and for long periods of time. Another con to owning a Maltese mix is that many Maltese cross breeds tend to inherit the love for barking that many Maltese dogs are known for. Tiny size of some Maltese mixes makes these dogs vulnerable to injuries and owners need to be extra careful not to accidentally step on or sit on a young Maltese mix puppy.


Maltese Cross
List of different Maltese mixes

Maltipoo dog. Poodle Maltese Mix
Malchi dog. Chihuahua Maltese Mix
Malshi dog. Shih Tzu Maltese Mix
Maltipom dog. Pomeranian Maltese Mix
Morkie dog. Yorkshire Terrier Maltese Mix
Poodle and Maltese Mix (Maltipoo)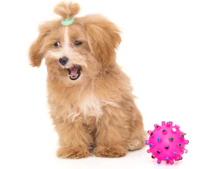 Maltipoo is a mix between a Maltese and a Poodle dogs. This Maltese mix often results in hypoallergenic Maltipoo dogs since both parent breeds produce less allergens when compared to other dog breeds. In addition, Maltipoo dogs are low-shedding. Maltipoo dogs are very trainable and respond well to obedience training. What are some drawbacks of this Maltese mix? Some of the cons to Maltipoos include above average grooming needs. Potential owners need to be prepared to regularly brush the dog's coat frequently. Monthly coat trims may be necessary to keep the coat neat and easier to care for. Maltese mixes such as Maltipoo make suitable companion pets for seniors and retirees who can spoil this small dog with lots of attention. Maltese mix dogs are very attached to their owners and they really dislike being left home alone. Keep in mind that some Maltipoo dogs may be prone to separation anxiety. Excessive barking may also be an issue with Poodle and Maltese mix dogs. Maltipoo dogs are devoted to their families and may need extra time to warm up to unfamiliar people. Early socialization is important for this mixed breed. Maltipoos are intelligent and reasonably active dogs. This small Maltese mix needs several walks during the day and some mental stimulation as well. Interactive dog toys can really help to keep your Maltese mix entertained and mentally engaged. Most Maltese mix dogs are adaptable and can enjoy life in an apartment or in a country home as long as they get to spend most of the time with their owners.

Sizes of this Maltese mix dog may range from very small if the Maltese is mixed with a Toy Poodle or slightly larger size if the Maltese is mixed with a Miniature Poodle.

Maltipoo pros and cons

Maltese vs Maltipoo

How to groom a Maltipoo dog at home

Different types of Maltese mixes

Chihuahua and Maltese Mix (Malchi)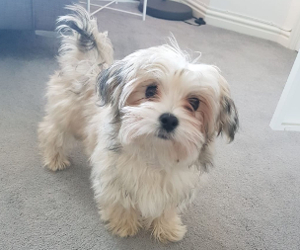 One of the smallest Maltese mixes is the Malchi dog. Malchi is a cross between a Maltese and Chihuahua breeds. Although Malchis are tiny in size, they make up for the small size by their personalities. Malchis are full of spirit and like to make everything that happens in their home their business. Malchi dogs may not be suitable for families with young children. Due to the small size this Maltese cross may be vulnerable around young kids. Malchi dogs are conveniently sized and are suitable for living in a city apartment or in a large private home. This small Maltese mix needs to be around his owners most of the time. People who work outside home and can't be around their dog during the day should consider other dog breeds because lonely Malchi dogs are not happy dogs. In appearance this Maltese mix can resemble either of the parent breeds, combining physical and temperament traits of both Poodles and Maltese dogs into one adorable package. Since Chihuahuas and Malteses like to bark, many Malchi dogs inherit that trait and can be noisy.

Shih Tzu and Maltese Mix (Malshi)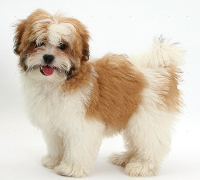 Malshi dogs are the ultimate companion pets that combine the cute looks and friendly personalities of both, the Maltese and the Shih Tzu breeds. Malshi are sociable and confident. In size Malshi can be from 8 pounds to 16 pounds in weight. This Maltese mix may be more quiet and doesn't bark as much as many other Maltese mixes since the Shih Tzu parent has the reputation of a more quiet dog breed. Nevertheless, if left alone frequently, this Maltese cross may be prone to barking. Some Malshi dogs may inherit the stubborn and more independent-minded temperament of the Shih Tzu parent, making this Maltese mix more difficult during obedience and potty training. While training a Malshi may take up more time, it is not impossible and with positive reinforcement training approach this Maltese mix can be a well-behaved family pet. Malshi dogs are reasonably active and need several half and hour walks during the day to stay mentally and physically active and healthy. As with any other dog, early socialization and obedience training makes a big difference in raising a confident and sociable pet that is a pleasure to be around. If you are considering this Maltese mix, be prepared to invest some time every day in brushing and caring for the dog's luxurious coat. Malshi dogs are often hypoallergenic and low shedding, but they do need daily brushing and monthly coat trims to keep the coat and skin healthy.

Malshi pros and cons

Pomeranian and Maltese Mix (Maltipom)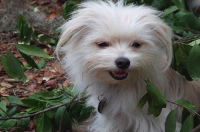 What happens when a Maltese dog is mixed with a Pomeranian? Maltipom is a mix between a Maltese and Pomeranian. Maltipom is one of Maltese Mixes and is known for charming looks and friendly yet independent temperament. This Maltese dog mix features abundant coat that can be white, black, chocolate and light brown in color. Maltipoms can be hands full when it comes to grooming needs. Potential owners need to be ready to brush the dog's coat regularly to help prevent the formation of mats and tangles. Maltipom dogs tend to bark a lot and they make great watchdogs, always notifying their owners of any strangers approaching their home by a loud barking. Maltipoms are reasonably active dogs and need several daily walks to burn off some energy and to get some mental exercise by playing or exploring the fenced outdoor space. Some Maltipoms may be easier to train than others, depending on which parent breed's temperament the dog inherited. Pomeranians can be challenging to train and that personality trait can be passed on to the offspring.

Maltipom pros and cons

Yorkshire Terrier and Maltese Mix (Morkie)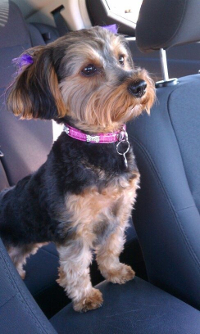 Morkie is a mix between a Yorkie and Maltese. This small Maltese crossbreed dog has many good traits inherited from both sides of the family. Terriers such as the Yorkshire Terrier offer a spirited and fearless temperament while traits inherited from the Maltese in the mix offer a friendly and affectionate side to Morkie dog's personality. Morkies are small yet full of energy. Potential owners can prepare themselves for extensive grooming needs of this Maltese mix dog. Regular brushing and coat trimmings help to manage the lovely coat that Morkies are born with. Morkies are playful and alert. Some Morkies may still possess the strong hunting instinct that comes from the Yorkshire Terrier genes. Yorkies used to be very successful ratting dogs in the past and many of them can still try to chase small animals when given a chance. Morkies like to bark and many Morkies make good watchdogs. Morkie dogs are suitable companion pets for people who can spend lots of time every day with the active little dog that in return will give unconditional love and companionship.

Morkie pros and cons


Send us an e-mail at dogbreeds911@gmail.com